Help Rohingya, Madrasah Se-Banten Donate Rp 630 Million Via BAZNAS
By : Hariyanto And Aldo Bella Putra | Monday, October 09 2017 - 18:00 IWST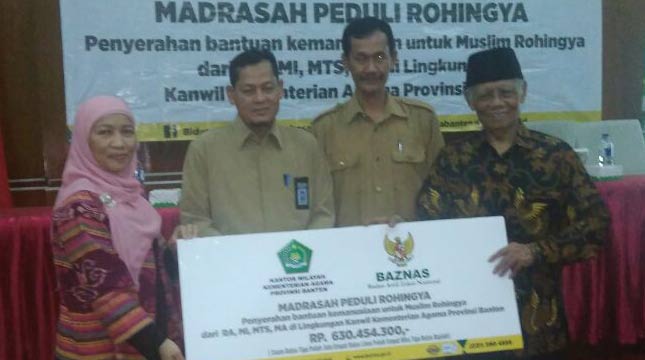 Madrasah Se-Banten Sumbang Rp 630 Juta Via BAZNAS
INDUSTRY.co.id - Banten - Madrasah in Banten Province shows social concern by handing over humanitarian aid to Rohingya refugees. They distributed donations collected amounting to Rp 630,454,300, through Badan Amil Zakat Nasional (BAZNAS).
"It's amazing; we should be appreciated and made an example. Only in one week can be collected funds Rp 630.454.300," said member of BAZNAS drh. Emmy Hamidiyah, M.Si, on the sidelines of the handover of humanitarian aid from Madrasah Peduli Rohingya from RA, MI, MTs, MA, at the Regional Office of the Ministry of Religious Affairs of Banten Province, at Kemenag Office of Banten Province, Central Government Area of ​​Banten Province, Jl. Raya Palima Blok Vertical Agencies no. 1, Serang, Monday (09/10/2017).
In the event attended by the Head of Education Madrasah Regional Office Kemenag Banten Province. H. Mahfudin, M.Si that, Emmy explains, BAZNAS is very active and has first provided assistance to Rohingya.
"During Ramadan, BAZNAS has sent humanitarian team and donation through BAZNAS Disaster Response (BTB). At the 2017 National Zakat Coordination Meeting (Rakornas) last week held in Ancol, North Jakarta, the same Rp 3.5 billion was collected, with details of Rp 2 billion from the central BAZNAS and Rp 1.5 billion from the provincial BAZNAS and BAZNAS districts / city. BAZNAS is active in raising humanitarian concerns and solidarity to the world such as Gaza Concern, Palestine and so on, "Emmy said.
According to her, the students' concern for the Rohingya ethnic refugees shows that madrassas have succeeded in raising children's awareness to be religious, socially and have attention to humanitarian issues. "Hopefully the passion of these madrassa students becomes a lifestyle until they grow up," Emmy said.
Head of Education Madrasah Regional Office of the Ministry of Religion Banten Province. H. Mahfudin, M.Si, explained that there are 69 madrassas in Banten Province contributing to the fundraising of humanity for Rohingya refugees.
Previously, at the closing of Rakornas 2017, Chairman of BAZNAS Prof. Dr. Bambang Sudibyo, MBA, CA, appreciates the humanitarian aid fund for Rohingya refugees from BAZNAS provinces and districts collected Rp 1.5 billion. Then Rp 2 billion from BAZNAS center so total aid reach Rp 3.5 billion.
"This donation will be distributed by the BAZNAS Disaster Response team (BTB) to Rohingya refugees in Myanmar and the Bangladesh border," he said.