Cement Indonesia Officially Became UPZ BAZNAS
By : Hariyanto And Aldi Firhand. A | Sunday, October 15 2017 - 21:42 IWST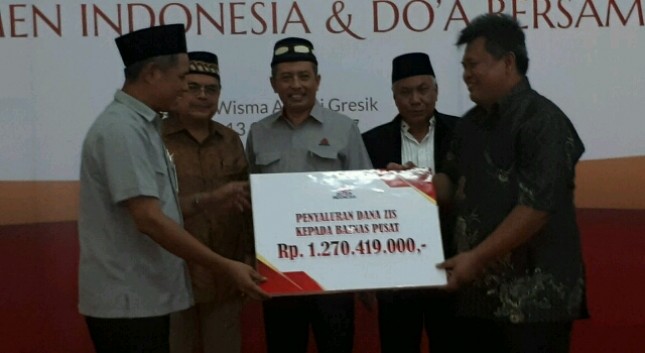 Cement Indonesia Officially Became UPZ BAZNAS
INDUSTRY.co.id - Gresik - Group of giant state-owned companies under the umbrella of PT Semen Indonesia, officially became the Zakat Collection Unit (UPZ) BAZNAS.
"The joining of SOEs pride of this nation further strengthens BAZNAS in an effort to empower the community and alleviate poverty in this country," said Chairman of the National Agency for Amil Zakat (BAZNAS) Prof. Dr. Bambang Sudibyo, MBA, CA, in the inauguration ceremony UPZ PT Semen Indonesia at the Office of Cement Indonesia, Gresik, East Java, Friday (13/10/2017).
On the occasion, Symbolically BAZNAS received zakat, infaq and alms (ZIS) fund from UPZ Semen Indonesia for Rp 1.27 billion.
Present Deputy BAZNAS M. Arifin Purwakananta, Independent Commissioner of PT Semen Indonesia Prof. Dr. Nasaruddin Umar, MA, Vice Regent of Gresik who is also Advisor to BAZNAS of Gresik Regency. Mohammad Qosim, Director of Human Resources and Legal as well as UPZ Adviser PT Semen Indonesia Agung Yunanto, Project and Engineering Director of PT Semen Indonesia Tri Abdi Satrio, UPZ Chairman of Semen Padang Octoweri and Head of UPZ BAZNAS Faisal Qosim Collection Division.
"Alhamdulillah, Cement Indonesia is an example and an example for other SOEs in managing zakat," said Bambang.
Former Minister of Finance reminded about the mandate of Presidential Instruction (Inpres) No. 3 of 2014 on the optimization of zakat collection in ministries, state institutions, state enterprises and the like.
Former Minister of National Education, also cited the Law No. 23 of 2011 that the authorities to manage zakat, infaq, alms and other religious social funds are BAZNAS and Lembaga Amil Zakat (LAZ) from central or national, provincial and district / city levels.
"There is a criminal sanction for illegal zakat management, which is explicitly stated in Article 41 of Act No. 23 of 2011 on Zakat Management," he said.
In order to optimize community empowerment and poverty alleviation, Bambang added, BAZNAS build synergy program with BAZNAS region as well as LAZ national, provincial and district / city.
Bambang is optimistic that Indonesia has entered the era of Zakat Awakening. Because, he said, in addition to the United Nations (UN) accommodated through Sustainable Development Program (SDGs), zakat has now entered into the master plan of Indonesia Sharia Financial Architecture.
"Not only that, BAZNAS management is also modernized through the implementation of ISO 9001: 2015, so that more professional, trustworthy, transparent and accountable," he said.
Bambang explained, BAZNAS also prepare certification for the amil.
"This is to improve the quality of human resources in order to achieve the mission of BAZNAS to be the best zakat manager in the world," he said.
In the inauguration ceremony of UPZ Semen Indonesia, BAZNAS also distributed zakat, infaq and alms donation to BAZNAS board of Gresik Regency.