The price of cement remains stable until now
By : Herry Barus And Aldi Firhand. A | Thursday, September 20 2018 - 21:26 IWST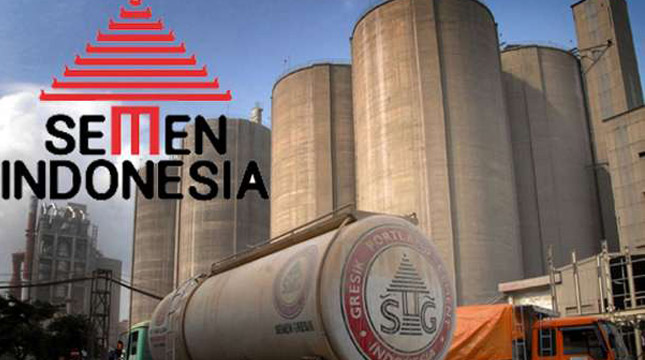 PT Semen Indonesia Tbk (SMGR) (indonesianindustry)
INDUSTRY.co.id - Surabaya- Marketing and Supply Chain Director of PT Semen Indonesia Persero Tbk (SMGR) Adi Munandir said cement prices in the country are currently not affected by the weakening of the rupiah, and are still stable as before.
 ">"At the lowest level of users or consumers the impact of weakening the rupiah does not exist, or has no effect," Adi said at the Indonesia Stock Exchange Building (IDX) on Wednesday (19/9) <>
However, internally the company, Adi admitted that there was an increased production cost, especially for coal raw materials that bought it using US dollars.
"Our production materials are still using coal, and it buys it using the US dollar which is currently increasing," Adi said, explaining.
However, he said, the company had offset prices through efficiency in other places, so that the weakening of the rupiah would not affect the price of cement.
">"We balance with efficiency prices elsewhere, so the increase in the US dollar has no effect. Because if it is raised it will affect market psychology," he said. <>
Adi admitted that he could not explain in detail the nominal increase in coal production costs, but in general it did not create turmoil in the company.
Meanwhile, amidst the tight competition in the domestic cement industry, until August 2018 SMGR was still able to record positive sales performance.
As reported by Antara, Semen Indonesia's corporate secretary Agung Wiharto said sales volume reached 20.67 million tons, a 4 percent growth compared to the same period last year of 19.88 million tons.
The sales achievements consist of domestic sales of 16.93 million tons, exports of 1.99 million tons, and sales of Thang Long Cement Company Vietnam (TLCC) of 1.75 million tons.
"At present the dynamics of the cement industry in Indonesia have experienced a shift with the entry of 8 new players since 2015, which previously only had 7 cement producers," he said.
The presence of new players, he said, caused an over capacity in Indonesia of 30 million tons, in which the level of industrial utilization in 2017 was only 65 percent. He said SMGR would continue to carry out various strategies to win the competition.
"We see the potential for improvement through strengthening the function of Semen Indonesia as a holding company. We no longer see Semen Indonesia as comprising 3 separate cement companies in Indonesia, and we will focus on optimizing the performance of Semen Indonesia in a consolidated manner," he said. Since January 2018, all marketing and supply chain activities have been focused on the Holding Company.
"We ensure that there are no more double and SMGR property competing in the same market. This happened before where we can find and Semen Gresik and Semen Padang compete in Jakarta, or Semen Gresik and Semen Tonasa which are both sold in Bali. This condition will increase competition pressure in the market and result in competition in selling prices, "he said.
In addition, SMGR will rerouting distribution channels that are able to provide the most efficient transportation costs.
"We will also renegotiate with transportation service providers partners to adjust what kind of contract is more efficient for the company," he said.