49 Victims Dies Because Fire Fires Tangerang Fireworks
By : Herry Barus And Aldo Bella Putra | Monday, October 30 2017 - 14:00 IWST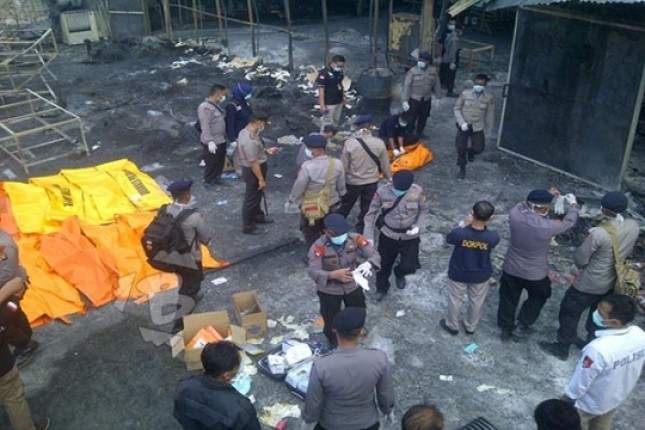 Ilustrasi kebakaran gudang (Foto Ist)
INDUSTRY.co.id - Tangerang - The death toll from a fire incident at the fireworks plant in Kosambi, Tangerang regency, Banten, increased after one person who was in intensive care at Tangerang Hospital on Sunday (29/10/2017) breathed his last.
Public Relations of Tangerang District Hospital Lilik contacted on Monday explained that the victim who died on behalf of Ati is 32 years old. The victim died on Sunday (29/10/2017) at 23:00 pm.
"Yesterday the fire victims on behalf of Ati breathed after getting intensive care," he said.
The victim's body, he added, had been brought by the family to subsequently be buried in his hometown in Pekalongan.
Lilik explained the victim suffered serious burns reached 80 percent. The doctor has made the maximum effort but the victim cannot be helped. "We have the maximum effort to help," she explained.
Based on the data collected, the total number of deaths from the fire that amounted to 49 people with details of 47 died during the incident and two more after receiving treatment at the hospital.
Please note, on Thursday (26/10) there has been a fire in the factory that makes fireworks and a kind of firecrackers in the Kosambi area of ​​Tangerang Regency. As a result of the incident, as many as 47 people were declared dead due to trapped inside the factory with a burning condition.
While 46 other people who are workers suffered serious burns due to firecracker explosion that burned almost all parts of the factory and vehicles around.
Victims who suffered burns then taken to a number of hospitals such as Mitra Husana Hospital, RSIA BUN and Tangerang District Hospital. Up to now, a number of workers have returned home and gone on an outpatient basis. But some are still critical because the burn almost reached 90 percent.
Meanwhile, for the burnt death victims inside the factory all have been taken to the Kramatjati Police Hospital for identification. Police have opened ante mortem post to carry data in identifying the victim died.
On the other hand, the Police are still investigating the cause of the fire and have examined the owner of PT Panca Buana Cahaya Sukses firecracker, Indra Liyono (40) who was known to be in Malaysia during the incident.
Police will ask Indra's information regarding company licensing and worker safety procedures standards separately, the location of fire in warehouse 99 Kosambi is still guarded by the police for further investigation. Residents around were still crowded the fire location to see the scars. (Ant)