BAZNAS - LZ Selangor Spur the Zakat Awakening World
By : Nina And Aldo Bella Putra | Saturday, November 04 2017 - 16:00 IWST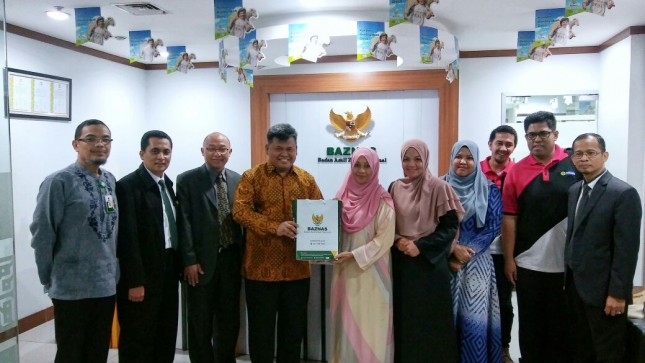 Baznas
INDUSTRY.co.id - Jakarta - Badan Amil Zakat Nasional (BAZNAS) builds synergies with Malaysia's Zakat Selangot Institute (LZS). Both zakat management organizations (OPZ) is determined to jointly spur the rise of zakat world that started from Southeast Asia.
This was raised when BAZNAS received a visit of LZS management led by Head of Division of Corporate Communications and Relationship of Datin Setia Hajah Norajun Institution Ainun binti Dato 'Mohd Hasyim and entourage, at BAZNAS office, Jakarta, Thursday (3 // 11/2017).
Present welcome, Deputy BAZNAS M. Arifin Purwakananta, Director of Coordination of Distribution and Utilization, Renbang and National Zakat Training Mohd. Nasir Tajang, Operations Director of Wahyu TT Kuncahyo and a number of divisions heads head of BAZNAS department.
"Let us jointly spur the rise of the world's zakat to demonstrate the contribution of Islam to the pursuit of the Goal Development Goals (SDGs) initiated by the United Nations," said Arifin.
BAZNAS deputies also present programs that will, are and are already in progress, especially in the fundraising field. Such as digital zakat, cooperation with e-commerce such as Bukalapak.com, Tokopedia, Ebaba, Blibli.com, Mataharimall.com, Victims Empower Villages, Digital Sacrifices, zakat counters in malls and offices, Coffee Bicycles, peace campaigns zakat and sacrifice in the Car Free Day area, and so on.
Arifin explained, BAZNAS has three pillars of communication. Namely, Public Relations that deal with institutional relationships and institutional branding, Information and Documentation Manager (PID), which serves requests for information, data and documentation from the community.
"There is also Marketing Communication (Marcomm) or Marketing Communications tasked with designing and creating product marketing strategies and BAZNAS programs," he said.
On the occasion, Norajun expressed his appreciation for the BAZNAS programs. He also expressed readiness to synergize with BAZNAS to contribute to spur the world zakat movement. "There are many lessons that we get from BAZNAS. It's not enough time to visit this institution several days. In the future we will be more intense to establish communication to exchange experience managing zakat institutions," he said.
Related to that, Arifin explained, BAZNAS has initiated the formulation of Fiqh Zakat on SDG with Philanthropy Indonesia. The formulation of zakat jurisprudence involves scholars, activists of zakat, philanthropy and academia.
It is hoped that Fiqh Zakat on SDGs will get a good response when delivered at UN high level meeting. As is known, now Chairman of BAZNAS Prof. Dr. Bambang Sudibyo, MBA, CA, is trusted as Secretary General of World Zakat Forum (WZF) 2017-2020. "In this case BAZNAS became the motor of the world zakat movement," he said.
According to Arifin, BAZNAS makes zakat jurisprudence as an example concept to facilitate the achievement of SDGs. BAZNAS hopes when zakat jurisprudence is brought to New York, WZF has introduced it as a concept and movement for the achievement of SDGs.
He said the SDGs are a world deal for global improvement. So, Muslims will watch, receive donations or help improve the world? According to him, every Muslim should be part of the party that helps improve the glolbal situation. Without SDGs, Muslims have been asked to participate in helping the world. "Fiqh Zakat on SDGs is a concept from Muslims to be used as part of strengthening the implementation of SDGs," he said.
Arifin explained, during this time Muslims are mapped as a country that needs help. Meanwhile, developed countries, in this case the West, are mapped as a helpful country. "This perspective should be changed," he said.
He acknowledges, it is true that Islamic countries need help and strengthening to achieve SDGs. But in Islamic countries also contain the power and resources that can solve the problems so that can be achieved SDGs. "It means that Islam is not only seen as a problem, but it also offers a better solution for the achievement of SDGs," he said.
It is said Arifin, if zakat fiqh is presented to the public, then Zakat on SDGs packed in the form of fikh is expected to mobilize the Islamic countries so as to participate in the achievement of SDGs. "Therefore, the role of Muslims in the development of the world is in position as a solution," he said.
For information, zakat jurisprudence is a book that is translated into English and Arabic. Jurisprudence of zakat will also be packaged in CD form. "BAZNAS will try to convey it to the public in simple languages ​​such as through cartoons and graphs that are easily understood by the public," he said. *