Setya Novanto Feels Accused of E-KTP Case
By : Herry Barus And Aldo Bella Putra | Saturday, November 04 2017 - 20:00 IWST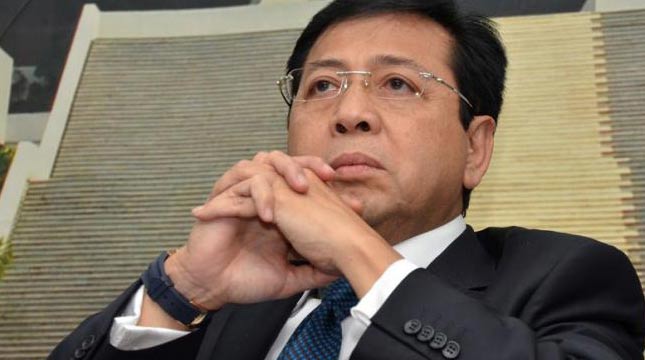 Setya Novanto
INDUSTRY.co.id - Jakarta- Speaker of the House Setya Novanto felt himself maligned because often mentioned to receive money and profits from procurement project of Electronic ID card.
"This is a very cruel slander from those who are trying to corner me," Setya Novanto said when asked by the chief judge of the Corruption Court judge, Jhon Halasan Butarbutar in Jakarta on Friday. (11/3/2017)
The panel of judges asked a number of sources to say that you are in the flow of money ?
Setya Novanto witnessed for defendant Andi Agustinus alias Andi Narogong who was charged with profit 1.499 million US dollars and Rp1 billion in procurement of ID card-Electronic (KTP-E), which totally harm the state finance worth Rp2, 3 trillion.
"If I read BAP this brother is very summers once associated with e-ID card, and then you also convey the people who call you in the e-KTP project is slander, what is your legal efforts as a state official, chairman of the House? Against the slander?" asked judge member Anwar.
"We always try because it concerns my good name and brings about politics, cornering me, including the pretrial to be one of the businesses even though I know some parties are trying to carry my name," added Setnov.
"Have you ever had a fuss about e-ID card Ade Komarudin once reminded you through Golkar Chairman then there was a meeting at Ade Komarudin's house and you said there was no problem?" asked the judge Anwar.
"It's not true, I'm clear as the faction chairman sometimes we come to talk about the programs ahead," he said, "but we never talked about this matter," Setnov replied.
"He said Akom is afraid to spread to the party?" asked the judge Anwar.
"Never," Setnov replied.
"In the previous trial, Ganjar Pranowo explained that he had met with relatives at the airport in Bali and requested that Ganjar not have to be loud when discussing e-ID cards?" asked judge member M Idris M Amin.
"Nothing special about e-ID cards and ordinary meetings because if I'm not wrong and he will hurry away," said Setnov.
"Please be honest because you have been sworn, Ganjar is also sworn," asked judge M Idris M Amin.
"Not true, it's a noble one," Setnov replied.
Setnov also denied knowing Director of PT Sandipala Arthaputra Paulus Tannos, Director of PT Biomorf Lone LLC Jonenes Marliem, both of which are mentioned in the indictment of participating in making ID card-E.
In connection with the former treasurer of the Demorakt M Nazaruddin Party and chairman of the Democratic Party Anas Urbaningrum, Setnov admitted only known in the meeting of the faction.
"I know Nazarudin from the Democratic Party, which I know and if I'm not mistaken for the party's general treasurer but never cooperate while Anas Urbaningrum I know the first chairman of the faction but only met in the faction meetings," said Setnov.
Whereas in the Andi Narogong indictment mentioned that there is a February 2010 in Gran Melia hotel happened between Andi, Director General Dukcapil Irman, Director of PIAK Kemendagri Sugiharto, Secretary General of Ministry of Home Affairs Diah Angraeni and Setnov, in the meeting Setnov expressed his support in the budget pembahsan KTP-E project.
As a follow up, Andi invited Irman to meet Setnov in the Setnov office on the 12th floor of the House of Representatives building and Setnov promised to coordinate it. Next September-October 2011 at Senov's house on Jalan Wijaya Kebayoran, Andi with Quadra Solutions Director Anang S Sudihardjo and President Director of PT Sandipala Arthaputra Paulus Tannos met Setnov. Setnov instructed that the ID-E project be continued.
After several meetings, the DPR finally approved the budget of KTP-E with a big plan in 2010 worth Rp 5, 9 trillion which the process of discussion will be guarded fraction of the Democratic Party and Golkar with compensation Andi provide fees to members of the House including Setnov and Andi Agustinus who got 11 percent or a total of Rp574.2 billion and a number of MoHA officials. (Ant)