BAZNAS Develops a Superior Destination Destination Village
By : Nina Karlita And Aldo Bella Putra | Thursday, November 09 2017 - 18:00 IWST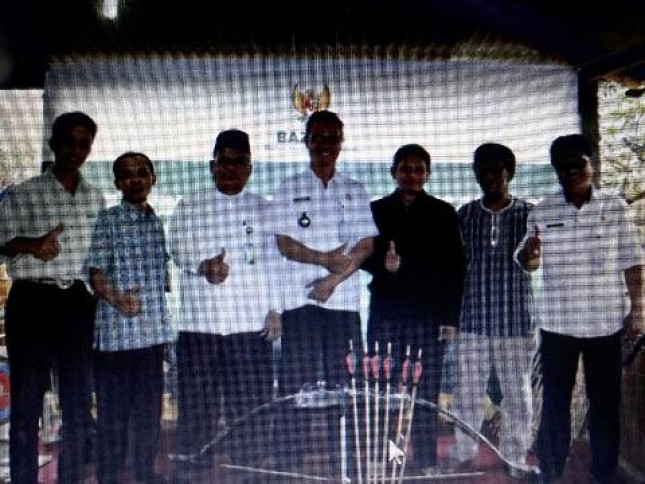 BAZNAS Kembangkan Destinasi Wisata Unggulan Kampung Panahan (Foto Humas)
INDUSTRY.co.id - Depok - Badan Amil Zakat Nasional (BAZNAS) develops creative economic center of Panahan Wisata Village in Depok, West Java. To support the empowerment program managed by small and medium entrepreneurs (MSMEs), BAZNAS poured aid of Rp 160 million. Creative economic center is expected to become a leading tourist destination built by BAZNAS.
The distribution of Rp 160 million was conducted on Wednesday (08/11/2017) in Kampung Curug, Tanah Baru Urban Village, Beji Sub-district, Depok City, West Java.
Present Head of Division of Utilization and Empowerment BAZNAS, Efri S. Bahri, Chairman of BAZNAS Depok City KH Encep MA, and Lurah Tanah Baru Depok, Zulkarnaen.
On the sidelines of the distribution of aid, BAZNAS also holds archery entrepreneurship training to entrepreneurs of UMKM.
According to the Head of Division of Utilization and Empowerment of BAZNAS, Efri S. Bahri, this activity is a BAZNAS Program which focuses on how to manage the creative economy center for the better and the developed. Changing the society that had been as Mustahik (recipient of ZIS) became Muzaki (Payer ZIS).
"This program is one of the activities in order to meet the awakening of zalcat in Indonesia, it is a challenge how to take care of the program that has been rolled out to be sustainable and give benefit to mustahik Hopefully this is sustainable and beneficial for many people," he said.
Efri said the program is expected to become a mustahik coaching area managed professionally and as a leading tourist destination BAZNAS. Moreover, in this village also developed other creative economic centers, such as catfish farmers, home soap craftsmen and printing.
"The muzaki will be able to see how the benefits of money they have zakat and infakkan for the benefit of the people," he said.
Depok City Government welcomes and appreciates the assistance channeled by BAZNAS for the development and empowerment of UMKM in creative economy center of Panahan Tourism Village which has been crowned by Depok Mayor.
"This archery village can be an example of thematic village development in Depok City, by becoming a tourism village is expected to increase PAD and good name of Depok city," said Lurah Tanah Baru, Zulkarnain.
In Kampung Wisata Panahan, Tanah Baru Subdistrict, Beji Subdistrict, Depok City, West Java developed various models of archery that was trend and interest of many people. Call it the standard model bow, horsebow and long bow. The price also varied, ranging from the cheapest price of hundreds of thousands to the most expensive millions of dollars.
One of the growing and growing communities is the Asshoyyad Archery community. There are about 20 people who are members of this community and become the guidance of BAZNAS.