KASAD Mulyono Inaugurates 676 Young Army Officers
By : Herry Barus And Aldo Bella Putra | Wednesday, November 15 2017 - 14:00 IWST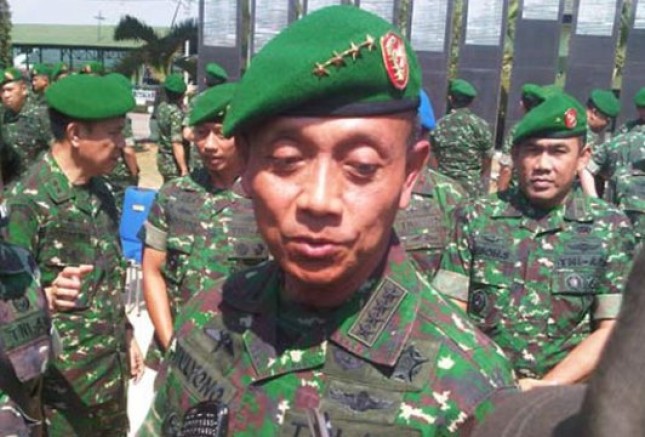 Jenderal TNI Mulyono Kepala Staf Angkatan Darat (Foto Ist)
INDUSTRY.co.id - Bandung - Army Chief of Staff Army General Mulyono inaugurated 676 young officers who have completed the education of officer formation (Diktukpa) regular Army II wave and education formation of special officer (Diktukpasus) in 2017 at Wiradhika Field School of Army Personnel Candidate, Bandung, West Java, Wednesday (15/11/2017)
Prior to the Prasetya Perwira by the Kasad on this day, an education closing by the Secapaad commander of Brig. Gen. Eka Wiharsa was held on Sunday (12/11).
A total of 676 young officers who were inaugurated consisted of 380 regular salaries consisting of 363 male officers and 17 Kowad men and 296 young officers from the Indonesian Armed Forces in 2017 consisting of 294 male officers and 2 Kowad men.
At the Inauguration of Prasetya This officer was also taken by officer's oath represented by young officers from each religion.
TNI Commander Mulyono in his mandate said that the graduates of Diktukpa and Diktukpasus TNI AD have been trained in an education to change the status of non-commissioned officers.
"Today you have completed your education and started the first step as an Army Officer who is ready to meet the task of becoming a leader in the unit in accordance with their respective ramifications.This certainly brings the consequences of the greater demands of duties and responsibilities that you will bear than in the future - the past," the Kasad said.
As a young officer, Mulyono said should have high morale, unyielding spirit, willing to sacrifice, giving priority to public interest rather than personal interest or class.
"As an officer, you have been bound and must always guide the ethics and norms of 'Budhi Bakti Wira Utama' whose understanding you have gained during education," said General Mulyono.
The four-star general expects newly appointed young officers to be able to develop field leadership, to keep close to the subordinates, to identify and feel the problems faced by members, and forge strong bonds to jointly carry out the task.
The former Kostrad Commander also reminded that the leader's power lies with his soldiers. Avoid fear management, so the presence of the leader is always expected by the subordinates to solve the problem, not exactly avoided because it is considered to increase the problem.
In Prasetya Perwira is also awarded the best graduates Trisakti Wiradhika which is the three aspects of ability that includes personality, intellectual and kesamaptaan.
Recipient of Trisakti Wiradhika award Diktukpa second wave was given to Letda Inf Edy Sucipto from Kopassus and Letda Cba (K) Dina from KODAM XIV / Hasanudin. As for Diktukpasus, the recipient Trisakti Wiradhika won by Letda Inf Mokhamad Mokhlis from Kodam V / / Brawijaya.
At the inauguration was also enlivened colossal dance archipelago which followed about 250 people and defile the troops. (Ant)