Health Minister Nila Encourages Tobacco Impact Research
By : Herry Barus And Aldo Bella Putra | Wednesday, November 22 2017 - 21:00 IWST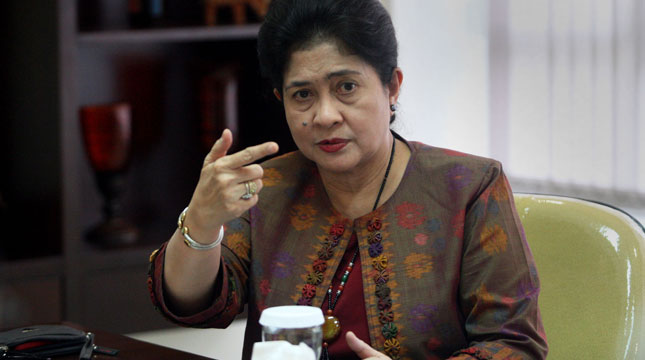 Menteri Kesehatan RI Prof.Dr.dr. Nila Djuwita F.Moeloek SpM (K) (Foto:frontroll)
INDUSTRY.co.id - Jakarta - Health Minister Nila F Moeloek encourages Indonesian researchers to do more research on the impact of tobacco on health and health costs.
"During this time the tobacco impact always cites research from abroad, whereas talking about the impact of tobacco in Indonesia, but citing the results of research from outside," said Nila in the launch of a book published the Health Research and Development Agency Ministry of Health in Jakarta, Wednesday (22 / 11/2017).
According to Nila, in the era of National Health Insurance (JKN) should the impact of tobacco on health and health costs can be more easily studied.
Moreover, according to data from the Social Security Administering Agency (BPJS) Health, cardiovascular disease occupies the top position with the greatest cost.
Nila exemplifies when he visited Russia, the number of tuberculosis in the country is very high. After the government conducted a study, it turns out that the rate of tuberculosis is very high it is related to the behavior of drinking alcoholic beverages and smoking.
"Maybe in the country can also be done studies and research because the number of smokers in Indonesia is also high," she said.
Nila said talking about tobacco or cigarette problems will never be finished because there are two opposing sides, namely health and economy.
"We are also facing a cross-sectoral 'stunting' problem and are currently coordinated directly under the Vice President, and perhaps the tobacco issue also needs to be coordinated directly by the Vice President," she told media crews.
The Institute for Health Research and Development of the Ministry of Health published the book "Health and Economic Cost of Tobacco in Indonesia".
Head of Health Research and Development Agency of Kemenkes Siswanto said the book is the result of collaboration of researchers from Balitbangkes and universities.
"This book needs to be advocated to stakeholders related to tobacco control in an effort to reduce the rate of non-communicable diseases," she said.
The researchers involved in the preparation of the book are researchers Balitbangkes Kemenkes Soewarta Kosen and Nunik Kusumawardani and researchers Public Health Faculty University of Indonesia Hasbullah Thabrany and researchers Public Health Faculty Airlangga University Santi Martini