Bukit Asam Experiencing HBA Increase
By : Dhiyan W Wibowo And Aldo Bella Putra | Sunday, November 26 2017 - 18:00 IWST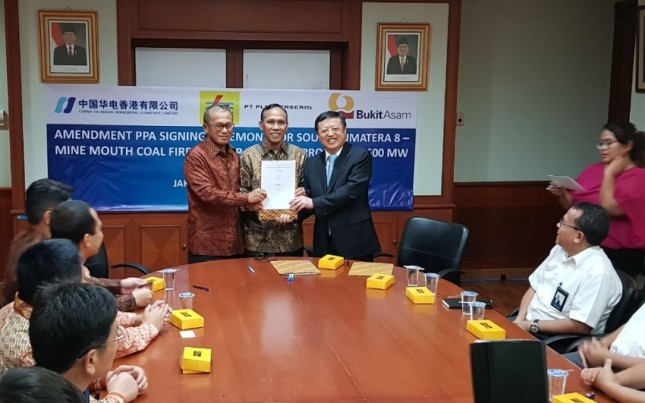 Penandatangan amandemen power purchase agreement PLTU Mulut Tambang Sumsel 8 antara Direktur Utama PTBA, Arviyan Arifin dengan Supangkat Iwan selaku Direktur Pengadaan II PLN, Fang Zheng selaku Chairman China Huadian Hongkong Comapny Ltd. di Jakarta
INDUSTRY.co.id - Jakarta, PT Bukit Asam Tbk is good to take advantage of the momentum of rising coal reference prices by spurring production volumes. As a result his net profit shot up 250 percent to Rp 2.63 trillion.
Coal commodities have experienced a glorious period in the 2010s. At that time coal is indeed a favorite alternative fossil energy other than oil. Its abundant production volume at a cheaper price is the reason.
World coal price even reached the level of 144 US dollars per ton in 2011.
After reaching the highest price, the glory of coal was passed after the United States developed shale gas as an alternative energy.
Not only the coal that collapsed, world oil prices were destroyed because shale gas is considered the most efficient and clean energy than the other two fossil energy. Moreover, the US is a country that consumes the most oil and coal.
The weakening of coal prices continued to reach the level of 53 US dollars per tonne in early 2016. The condition is certainly bad for coal producers including PT Bukit Asam Tbk. Fortunately; the state-owned companies whose shares are listed on the Indonesia Stock Exchange with PTBA tickers are able to anticipate the situation.
In addition to efficiency, production volume and sales continue to be encouraged. As a result, in 2016, PTBA's net profit only slightly decreased by about 1% to Rp 2.02 trillion compared to net profit in 2015 which was recorded at Rp 2.04 trillion.
But no storms do not pass. By the end of 2016 the business climate seems to be taking the side of the coal sector, with coal prices bouncing back to 101.69 US dollars per tonne. The figure was not indeed not too long survived, but at least far from the lowest price that occurred in early 2016 ago.
In the announcement of the performance of PTBA per September 2017 seen, the average selling price of new coal from the beginning of 2017 to 30 September 2017 and recorded an increase of about 15% year on year. The increase was driven by the rise of Indonesia Coal Index (ICI) and Coal Reference Price (HBA). Agreed or not this fact is an important driver of PTBA's performance growth per September 2017.
"We managed to maintain its performance growth trend for nine months in 2017 with a net profit of Rp 2.63 trillion. This figure shows 250 percent growth or Rp 1.57 trillion compared to the same period in the same period (year on year) in 2016 which recorded Rp 1.05 trillion," said PTBA President Director, Arviyan Arifin some time ago.
The increase in profit makes PTBA's share per share increase 256% to Rp 1,246 from earnings per share the same period last year which only Rp 486.
Arviyan said that besides the increase of average selling price of coal, the high profit growth is also driven by high growth of production volume, transportation and sales, and efficiency program conducted by the Company.
In terms of revenue, as of September or Q3 / 2017, PTBA managed to reap Rp 13.22 trillion, representing a 31.7% increase over the same period in 2016 of Rp 10.04 trillion.
"This revenue increase is the result of continuous efforts by the Company to penetrate the market to sell Low to Medium Range Calorie coal at the time of the improved coal price," Arviyan said.
From the operational side, Arviyan explained that as per September 2017, PTBA has boosted coal production volume by 30.3% growth. Meanwhile, total coal production in the period showed an increase of 130.3% from 12.98 million tons per September 2016 to 16.91 million tons in September 2017. Coal purchase was recorded at 300 thousand tons per third quarter of 2017.
The volume of rail transport increased by 24.5 percent to 15.79 million tons compared to last year's 12.68 million tons.
With this achievement PTBA managed to spur sales volume to 17.24 million tons per September 2017. This figure shows a 13.8% increase from the same period in 2016 of 15.14 million tons. Significant increase occurred in domestic sales of 1.83 million tons, up 20% over the same period in 2016.
"The composition of domestic sales in the period of January - September 2017 is 63.9% and for the export market is 26.1%," he said.
By the end of 2017, PTBA is targeting a total production of 21.9 million tons, in addition PTBA purchases coal of 0.45 million. So the total production and purchase is targeted to reach 22.37 million tons.

Energy Diversification
In order to maintain the continuity of the Company's business in the future, currently PTBA claims to be actively doing business transformation by working on renewable energy.
"We are aware that coal will be exhausted, so we do transformation and expansion," said Arviyan.
The move is done by building a Solar Power Plant (PLTS) at PTBA's post mine site both at Tanjung Enim and Ombilin which is planned to begin in early 2018.
"This plan is also a form of PTBA support to the government program to increase the portion of renewable energy to 25% by 2025 or 2026," he added.
It said Arviyan, it has advantages in building PLTS, especially large land reaches 20,000 hectares (ha). According to him to build PLTS, the company needs land of 1-2 ha for every 1 MW.
Therefore, the land prepared by the company is enough to build PLTS up to 10,000 MW.
"Related to the development of PLTS, I have correspondence to PLN, because there must be a buy. So the realization is waiting for the results of talks with PLN "he said.
In addition to building the PLTS, transformation and expansion is carried out in the form of the construction of Steam Power Plant (PLTU) and biomass power plant.
As for the 35 thousand MW power project targeted by the government on October 19, 2017 and PTBA through its subsidiary PT Huadian Bukit Asam Power and PT PLN (Persero) signed an amendment to a Power Purchase Agreement (PPA) for the Steam Power Plant (PLTU) Mouth Mouth Sumsel 8 with a capacity of 2 X 620 MW.
The signing was done by PTBA President Director Arviyan Arifin, Director of Strategic Procurement of 2 PLN Supangkat Iwan Santoso, and China Huadian Hongkong Company Ltd.
Corporate Secretary of PTBA Suhermen said the PPA amendment covers several points. The first electricity that was channeled through the Java submarine network, or so-called High Voltage Direct Current (HVDC), is now transferred to the Sumatra network through a 500 kiloVolt (kV) transmission.
"The change is due to the electricity demand in Java is considered sufficient, so that electricity from PLTU Mulut Tambang Sumsel 8 diverted for electricity needs of Sumatra," said Suherman in a written statement received INDUSTRY.co.id.
Second, the company will also build a transmission line from PLTU Sumsel 8 to PLN main substation in Muara Enim as far as 45 km. The addition of the transmission line adds the total investment to almost US $ 1.7 billion.
Then the third, the technology used PLTU Sumsel 8 also experienced a change, ie from sub critical to super critical.
"So it becomes more efficient and environmentally friendly," he explained.
After the PPA was signed, the company expects the Sumsel 8 power plant to begin in mid-2018 with a construction period of 42 months for units I and 45 months for unit II.
"Thus, it is expected to reach Commercial Operation Date in 2021 for units I and and 2022 for unit II," added Suherman.