National Textiles and Textile Products Increases
By : Kormen And Aldi Firhand. A | Sunday, November 26 2017 - 21:13 IWST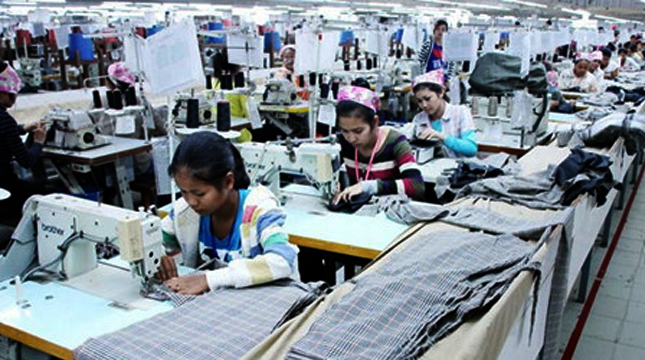 Textiles Production
INDUSTRY.co.id - Jakarta - The national textile industry growth rate until the end of 2017 is targeted to reach 2.59 percent with export value of USD12.09 billion and employment of 2.73 million people.
National textile and textile industry (TPT) in the first semester of 2017, recorded a positive performance. For the domestic market alone, the textile industry has increased demand by 30 percent. The increase also contributes to the increase of production utilization to reach 5-10 percent.
Even the growth rate of the export-oriented labor-intensive sector has climbed by 1.92 percent (YoY) over the same period in the previous year.
Director General of Chemical, Textile and Multifarious Industries (IKTA) Achmad Sigit Dwiwahjono said that this positive performance was assessed by national textile industry actors, one of them being the role of the Task Force on Importation of High Risk Goods Imports set up by the government.
According to him, other leverage factors are through the implementation of fiscal and non-fiscal policies of several economic policy packages that have been issued by the government. This is a step to create a conducive investment climate.
"For example, facilitating the provision of fiscal incentives in the form of tax allowance and tax holiday," he said.
In order to support the improvement of national TPT industry performance, so far, the government has cut down regulations, licensing, and bureaucracy to facilitate industry players in Indonesia.
Another effort is that the government also oversees the wage system to ensure certainty for workers and business actors, develops bonded logistic centers (PLB), and implements vocational education programs that link and match between Sekolang Menengah Kejuruan and industry.
With these policies, the Ministry of Industry targets the growth of national textile industry by the end of 2017 to reach 2.59 percent with export value of USD12.09 billion and employment of 2.73 million people. Meanwhile, in 2019, projected growth rate of textile industry reached 3.56 percent with export value of USD15 billion and employment as much as 3.11 million people.
According to Sigit, the national textile industry is known to have good quality in the international market so it can be a strong capital in expanding the global market.
This potential, according to Sigit, should continue to be utilized and supported through concrete steps. For example, through collaboration between the fabric industry and national and international designers.
"This is to build synergy toward national branding as a strategic effort to build self-reliance of national textile industry," he said.
In an effort to improve the growth and performance targets of the textile industry in the midst of today's competitive pressures and global competition, Kemenperin is working with the Indonesian Textile Association (API) and the Indonesian Synthetic Fiber Producers Association (APSyFI) to develop a roadmap on the National TPT Industry Development Program integrated from upstream to downstream for a period of up to 2035.
Meanwhile, in order to improve the supply chain especially the supply of raw materials of cotton, Kemenperin together with several national textile entrepreneurs will make a working visit to the United States (US) in order to discuss cooperation between US-Indonesia related to cotton import.
"It is expected that from the results of the meeting for the future import of cotton from the United States can be placed in the warehouse PLB Indonesia, so that the supply of cotton raw materials for the domestic spinning industry can obtain convenience," said Sigit.
Take advantage of Digital
Earlier, Minister of Industry Airlangga Hartarto said the government is also working on a bilateral cooperation agreement with the United States and the European Union to expand the local textile export market.
"Currently in the process of negotiation for the bilateral agreement, because the import duty of Indonesian textile products is still subject to 5-20 percent, while the export of Vietnam to America and Europe is zero percent," he said.
In fact, the Ministry of Industry has encouraged the national textile industry to immediately take advantage of digital technologies such as 3D printing, automation, and internet of things so ready to face the era of Industry 4.0.
This transformation effort is believed to increase efficiency and productivity, in addition to continuing the restructuring program of machinery and equipment.
Kemenperin also continue to coordinate with the authorities to overcome the illegal import of textile products in the form of bulk.
"We will also notice and there is a decisive action to import used clothes that enter through the port of 'rat'," he added.
Airlangga is optimistic that the national textile industry will be able to compete globally.
"Especially for the shoes and sport apparel industry, we have already passed China, even in Brazil, we have dominated the market there to 80 percent," he said.
Meanwhile, Head of Center for Industrial Technology Research and Development of Intellectual Property, Sony Sulaksono said, the national TPT needs to innovate in product development so as to capture the opportunities of the current global market trends.
The reason, this sector not only produces products for clothing or clothing needs, but has developed into a non-clothing textile industry.
"So now its textile products are used for materials development of toll road infrastructure, agro-textiles, medical up to food and beverage industry, automotive, and other consumer manufacturing," he said.
The Ministry of Industry projects that the commodity of the non-clothing textile industry is still quite large and the demand is large. The average rate increases over the past five years by 9.9 percent per year, with Indonesia contributing 0.47 percent of the world's needs.
However, to produce quality functional textile products, according to Sony, it needs to be supported by research and development (R & D) results such as those conducted by the Ministry of Industry through the Central Textile Agency (BBT) Bandung.
"We want to answer consumer expectations that are more than just a conventional clothing, but have entered into the realm of functional textiles that have the character and specific properties in accordance with its function," he said.
BBT Bandung is one of the working units of Ministry of Industry under the auspices of the Agency for Industrial Research and Development (BPPI).
The hall has two main tasks, namely the implementation of R & D activities in the field of textiles and provide technical services to the textile industry.
Sony mentions, some of the results of textile R & D in 2017 from BBT Bandung which disseminated, among others, anti-mosquito textures made of active microcapsules lemon peel oil, anti-bacterial textile manufacture with natural active substances from chitosan, and functional textiles for anti-ultraviolet roof.
Furthermore, sound noise control panel of natural fiber material and textile waste, technical textile from denim wastes for cover of foundry products, and xanthan gum production from tofu solid waste and xanthomonas bacteria to substitute imported gum xanthan.
"We hope, a number of R & D results can be implemented by the national textile industry so that will spur competitiveness and productivity and expand export markets," he said.
In addition, R & D activities are expected to help overcome in terms of product diversification and production process improvement and product quality.