PT Total Oil Holds Safe Driving Socialization for UNPAD Students
By : Amazon Dalimunthe And Aldo Bella Putra | Friday, December 01 2017 - 15:00 IWST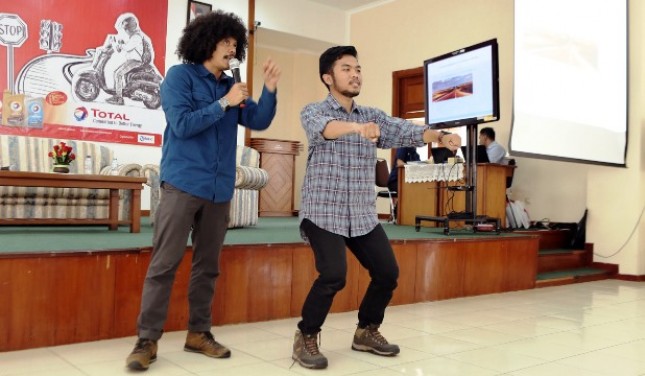 Kegiatan Demonstrasi Safe Riding yang diselenggarakan oleh Total Oil Bagi mahasiswa
INDUSTRY.co.id - BANDUNG, - French lubricant producer, PT Total Oil Indonesia, held a safe riding socialization event for about a hundred students at Padjadjaran University, Bandung, Thursday (30/11). This activity is one of a series of campaign "Safe Riding with Total Hi-Perf "held by PT Total Oil Indonesia in four cities. As the world's fourth largest international oil and Gas Company, Total is fully committed to the safety issues of driving.
Year 2017 this is the third year of PT Total Oil Indonesia held this series of educational campaigns. After two years in Jakarta, this time the title of "Safe Riding with Total Hi-Perf" penetrated various campuses in West Java and Central Java. In total there are six targeted points, namely Padjadjaran University and Universitas Pendidikan Indonesia in Bandung, Diponegoro University and Soegijapranata University in Semarang, Sebelas Maret University in Surakarta, and Gunung Swadaya University in Cirebon. This is done no other way to reach more motorists outside Jakarta.
Slightly different from the activities in previous years that target more high school students, this time PT Total Oil Indonesia is fully targeting the students.
Bandung City Government welcomes this safety educational initiative. Through a speech that was read by the Head of Transportation Department of Bandung, Didi Riswandi there are 3 main messages conveyed by the Mayor of Bandung related to the implementation of this activity. The first is the importance of establishing a culture-related set of safety cultures from an early age or golden age. The second is about the use of approach and media that are popular among young people, considering 40% of Bandung city population is under 40 years old. Use of social media or video on safety content will be more easily accepted by young people. And last is the importance of the existence of safety facilities, such as sidewalks or other, in public spaces on campus, so that education related to the safety of this vehicle does not stop in the classroom.
"PT Total Oil Indonesia is committed to doing public safety education, which is why every year we organize" Safe Riding with Total Hi-Perf "at schools and colleges to encourage young people to drive safely. If previously we focus on Jakarta and its surroundings, this year we have "Safe Riding with Total Hi-Perf" in six points in four cities in West Java and Central Java, so that this campaign can reach more motorcyclists in Indonesia," Explained Christopher Kasidi, VP - Retail & Marketing of PT Total Oil Indonesia.
Meanwhile, Magdalena Naibaho, Brand Manager of PT Total Oil Indonesia hopes that this activity can benefit not only participants who attend the "Safe Riding with Total Hi-Perf" event, but also a better influence on the driving behavior of vehicle users. "The benefits of this activity should not stop at this place, but can be disseminated also by the participants to their friends and family. We need to pass awareness and drive safely to all road users in Indonesia," said Magdalena. (AMZ)