The Pretrial Process Postponed For a Week that Harmed Setya Novanto
By : Herry Barus And Aldo Bella Putra | Monday, December 11 2017 - 15:00 IWST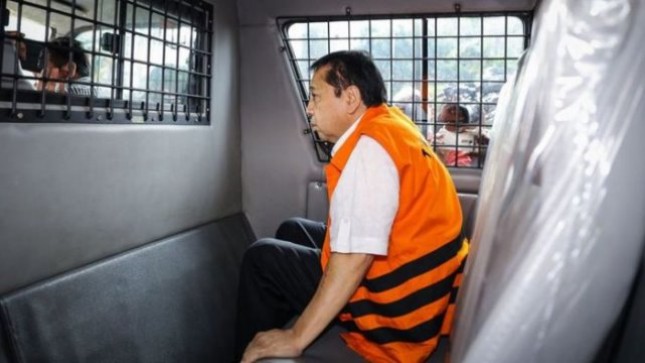 Ketua DPR RI Setya Novanto (Foto Ist)
INDUSTRY.co.id - Jakarta - Criminal law expert from the Islamic University of Indonesia (UII) Yogyakarta Mudzakir explained that the delay of Setya Novanto pre-trial trial for one week has hurt the applicant.
Mudzakir was presented as an expert witness in the continuation of pre-trial hearing with the agenda of expert examination from Setya Novanto in South Jakarta District Court on Monday (11/12/2017).
According to Mudzakir, Setya Novanto's party had been harmed when the Corruption Eradication Commission (KPK) requested a three-week pretrial trial postponement on Thursday (30/11), although in the end the single judge Kusno decided to postpone the trial for one week.
"The petitioners have been disturbed when the requested party is not present and requested a three-week trial delay, which means that the applicant's rights have been seized in a week, it was also filed and the case was examined on December 13," Mudzakir said.
Novanto party will present three people consisting of two criminal lawyers and one administrative expert of state administration.
Mudzakir stated that should the examination of the case at the Corruption Court (Corruption Court) Court at the Central Jakarta District Court against Novanto postponed until the pre-trial process is completed first.
"According to experts in the process now should be respected by the applicant, it should be a matter of postponement to respect the pretrial," he said.
Previously, the inaugural session of House Speaker Setya Novanto in the case of corruption in the procurement of KTP-electronic scheduled took place December 13, 2017, a day before the judgment of pre-trial petition filed Setya Novanto.
"I explained that we are enforcing the law rather than enforcing the text of the Act." The expert should interpret the pretrial authority is quite appropriate," Mudzakir said. (Ant)