Closing Year 2017, Andalan Finance Receives USD 20 Milion Financing from DEG
By : Aldi Firhand Alqudri | Tuesday, December 12 2017 - 11:58 IWST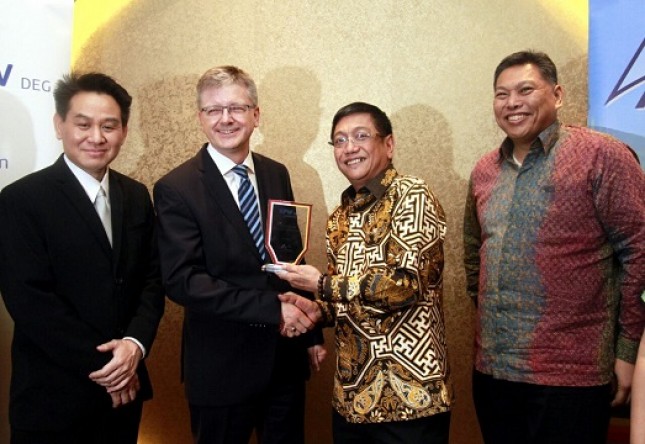 Closing Year 2017, Andalan Finance Receives USD 20 Milion Financing from DEG
INDUSTRY.co.id - Jakarta - December 11th 2017 – Today, PT Andalan Finance Indonesia ("Andalan Finance") performs the signing of the USD 20 million long-term senior loan from DEG - Deutsche Investitions und Entwicklungsgesellschaft mbH ("DEG"). DEG, a subsidiary of Germany's KfW, is one of the largest European development finance institutions. The event was attended by Sebastianus H. Budi as
President Commissioner of Andalan Finance, who is also as President Director of PT Industri dan Perdagangan Bintraco Dharma Tbk ("Bintraco Dharma") as a majority shareholder of Andalan Finance, President Director of Andalan Finance Frans F Rundengan accompanied by Finance Director Lianawaty and the Chief of Financial Institution Relationship Franklin Paul Nelwan. From DEG Matthias Goulnik, Director Representative Office Jakarta accompanied by Investment Manager Representative Office Jakarta Hanafiah Alam, took part in the signing ceremony.
This is the first cooperation between Andalan Finance and DEG. "We would like to thank DEG who has given their trust to Andalan Finance. This is the proof of trust in the banking sector that foreign investors put in the consistency of our performance. We hope this will be the beginning of further cooperation. We plan to use the finance from DEG for funding of our commercial clients in 2018," said
Frans F. Rundengan.
"We are impressed by the customer oriented-attitude and working spirit of Andalan Finance. Therefore, we are confident that this financing will be the beginning of a successful and long-lasting partnership. Our funds will be designated for the financing of vehicles for SME clients in order to improve their mobility," said Matthias Goulnik.
Until November 2017, the company has successfully disbursed financing of Rp. 4.16 trillion, an increase by 31 % compared with the same period last year. The financing volume has already reached 94% of the 2017 target. With such performance we hope to be able to smile at the end of the year because we have succeeded in achieving our financing growth target.[Stz1]
Frans F. Rundengan admitted to be optimistic when facing the next year by installing the target of financing distribution in 2018 maximum by Rp 5 trillion, with funding target by Rp. 7 trillion. Andalan Finance has also planning to issue Medium Term Notes ("MTN") by Rp. 2 trilllion in 2018, although it is predicted that finance companies and financial services will have several challenges such as 2018's political dynamics or simultaneous elections and pre-presidential election in 2019. To contribute to the achievement, the company has been working successfully with valued national banking partners to strengthen the company's funding, in the form of bilateral and syndicated loans.
"With our 5 pillars that are a source of strength to Andalan Finance − strength from God, the shareholders, the team, our business partners and of course our customers − and 5 work ethics − work by heart, honestly, sincere, smartly and always stay positive to achieve optimal result −we are confident to achieve the financing distribution target," said Frans F. Rundengan.
Andalan Finance, as already known, managed to win several awards from INFOBANK with the predicate "VERY GOOD" in a row from 2009 – 2017. In addition it received two awards organized by Economic Review Magazine and Perbanas Institute in The Best Financing Companies category and Best of The Best CEO Multifinance Indonesia of The Year 2017. Last October, Andalan Finance won the Indonesia Multifinance Consumer Choice Award 2017 from Warta Ekonomi as one of the best performing companies.
"We sincerely thank our customers who have entrusted their vehicles' financing to us. These awards makes us proud and encourage us to continue to provide the best service to our customers in order to be always well known and sought by the people of Indonesia," added Frans F. Rundengan.
The partnership with DEG will also benefit Bintraco Dharma with a stock code "CARS", the Holding Company of Andalan Finance. Until September 2017, net profit of Bintraco Dharma grew by 6 %, with total assets growing by 31 % since the beginning of the year because of Andalan Finance's financing growth.
---