PWI Slams Violence of Chinese Apparatus to Journalists of the Republic of Korea
By : Candra Mata And Aldo Bella Putra | Friday, December 15 2017 - 19:30 IWST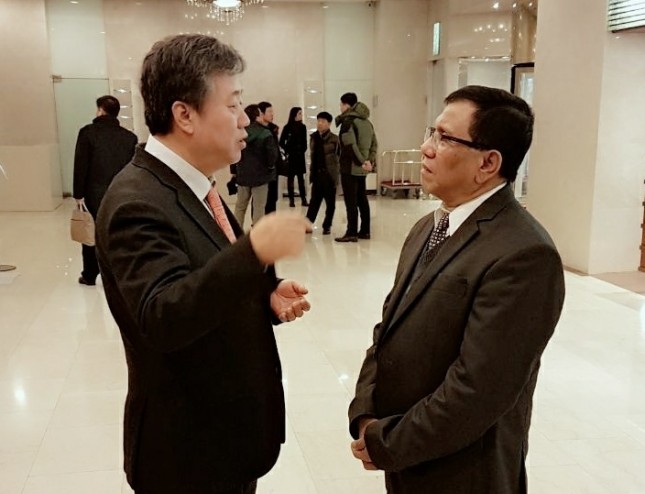 Delegasi PWI di Korea Selatan
INDUSTRY.co.id - SEOUL - The Indonesian Journalists Association (PWI) participated in spite and condemned the violence committed by the People's Republic of China (PRC) against two Republic of Korea journalists on duty to cover President Moon Jae-in's visit to Beijing.
The two South Korean photo-journalists were beaten to the ground and wounded in a trade fair attended by Moon Jae-in before President Moon met President Xi Jinping.
One of the victims of violence is sent home today, while another will return tomorrow. The beating news made headlines on various Korean television stations.
The photo showing one of the victims, Lee Chungwoo, fell, graced the front pages of South Korean newspapers.
"This incident should be regretted: All parties, including the Chinese security apparatus, should be able to honor journalists who are on duty, especially since they are the official government troupe," said PWI Secretary General Hendry Ch. Wake up in a meeting with Korean journalist journalist (AWK) president Jung Kyusung at the President Hotel, Seoul, Friday morning (15/12).
AWK President Jung Kyungsung expressed his gratitude for the sympathy shown by PWI.
"We will provide maximum assistance to both victims," ​​he said.
Hendry and a number of PWI leaders from various provinces are in South Korea for a PWI and AWK cooperation friendship visit.
The news of the violence experienced by South Korean journalists has been submitted by AWK Vice President Choi Woosuk at a dinner welcome PWI delegation, Thursday night (14/12).
According to him, the South Korean press community considers this incident as an unfriendly act from China.
In addition to the violence perpetrated by these security forces, there are several more incidents that do not wear during the visit of Moon Jaein to China.
For example, no airport pick-up is available when Moonjaein arrives. Also, Moon Jaein is left to eat breakfast and lunch without being accompanied by high-ranking Chinese officials.
"However this is an official state visit, but this kind of reception shows less friendly attitude," Choi Woosuk said.
Meanwhile, Chief of Foreign Affairs of PWI who is also a lecturer of East Asia at Syarif Hidayatullah State University (UIN) Syarif Hidayatullah, Jakarta, Teguh Santosa, said that the violence against the two Korean journalists could worsen the relationship between the two countries.
The relations between Korea and China are moving in an unharmed direction after South Korea has allowed the United States to place the defense system of the High Altitute Area Defense (THAAD) Terminal mentioned to prevent the attack of the Democratic People's Republic of Korea.
As for China assessing the presence of THAAD has the potential to threaten the country's security.
As a form of protest, China closed dozens of Lotte shops and banned South Korean tour groups visiting China also banned K-Pop concert in panda country.
"There should be a tension between China and Korea, and both countries and communities need to restore the atmosphere of friendship as before," Teguh Santosa said.
The other members of the delegation in this PWI visit are PWI Chairman of DIY, Sihono, Chairman of PWI Sumut Hermansyah, PWI Chairman Jambi Saman, PWI Chairman Solo, Anas, PWI Chairman Sulbar Naskha Naban, PWI Chairman Kalbar Gusti Yusri, PWI Sekri Saibansyah, PWI Sulsel Anwar Sanusi.