In Seoul South Korea, Ambassador Umar Hadi Appreciation of Coffee Diplomacy of Indonesian Journalists Association (PWI)
By : Candra Mata And Aldo Bella Putra | Saturday, December 16 2017 - 16:00 IWST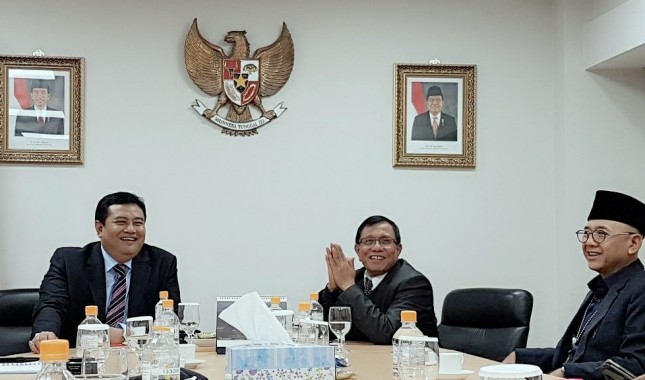 Dubes Indonesia untuk Korsel, Umar Hadi bersama Delegasi PWI (dok INDUSTRY.co.id)
INDUSTRY.co.id - SEOUL - Coffee diplomacy being conducted by Indonesian Journalist Association (PWI) welcomed Ambassador of Republic of Indonesia to Republic of Korea Umar Hadi.
In a meeting with the PWI delegation in Seoul on Friday (15/12), Ambassador Umar Hadi reminded that in the relations between countries in the present era requires total diplomacy involving all components of society, including journalists and the media.
"I think this is part of the total diplomacy we are all doing, of course it is very good," said Ambassador Umar Hadi who accompanied by the Coordinator of Information and Social Affairs Culture and Diplomacy of Indonesian Embassy in Seoul, Aji Surya.
The visit of the PWI delegation led by Secretary General Hendry Ch. Waking up to South Korea is part of the cooperation of the oldest and largest journalist organizations in the country with the Korean Journalists Association (AWK).
Both organizations in the past five years have sent delegations to strengthen the cooperation of the organizations and communities of both countries.
In addition to Hendry, the PWI delegation consisted of the Chairman of Foreign Affairs PWI Center Teguh Santosa, Chairman PWI North Sumatra Hermansjah, Chairman PWI Jambi Saman Muraki, Secretary PWI Kep. Riau Saibansah Dardani, PWI Chairman Jogjakarta Sihono, PWI Solo Chairman Anas Syahirul Alim, PWI Chair of West Sulawesi Naska Mahmud Nabhan, South Sulawesi PWI Secretary Anwar Sanusi, and West Kalimantan PWI Chairman Gusti Yusti Ismail.
During a visit to South Korea this time the PWI delegation brought coffee from various regions in Indonesia. The coffees were handed over as souvenirs to the parties visited during the program.
In front of Ambassador Umar Hadi, Hendry Ch. Bangun said that in less than 24 hours the PWI delegation has delivered coffee to a number of parties in Seoul, including to Seoul City Foreign Relations Advisor, Kim Changbeom who will soon be in charge of Jakarta as Ambassador of the Republic of Korea to Indonesia.
Hendry's explanation, Ambassador Umar Hadi smiled broadly. He explained that the Embassy in Seoul is also intensively promoting Indonesian coffee. In a meeting with South Korean investors interested in Indonesia's recent coffee, Ambassador Umar Hadi called on South Korean investors to see coffee production from a wider perspective.
"I said if you want to import only coffee beans, do not talk to me, but if you want end-to-end coffee production and plasma system involving farming community, then we can talk, " said Hadi who just served in the land of ginseng in July.
"I will direct (South Korean coffee investors) to Aceh," he continued.
Ambassador Umar Hadi also said, one of the things that are often used as the reason for investors who want to develop the coffee industry in Indonesia is technical matters.
For example about roasting or frying coffee beans that can reduce the age of coffee products. According to him, this is a far-fetched excuse.
He believes, there is technology to extend the life of coffee bean products after being processed in Indonesia. He pointed out that Italians who do not have a coffee tree but can export coffee to many countries in the world.
Ambassador Umar Hadi who served as Consul General of the Republic of Indonesia in Los Angeles (2014-2017) and Deputy Ambassador of the Republic of Indonesia in The Hague (2009-2012) continued, he advised investors to participate in building the welfare of national coffee farmers.
"I tell them, you have to remember, the coffee is important, it means the product must be good, but more important is the welfare of farmers, not just coffee exports, but how to improve the quality of life of coffee growers so that later the children will become farmers. It's good," Ambassador Umar Hadi said.