SpiderMan Film Organizer Official Is Not Professional
By : Aldi Firhand Alqudri | Wednesday, July 26 2017 - 04:59 IWST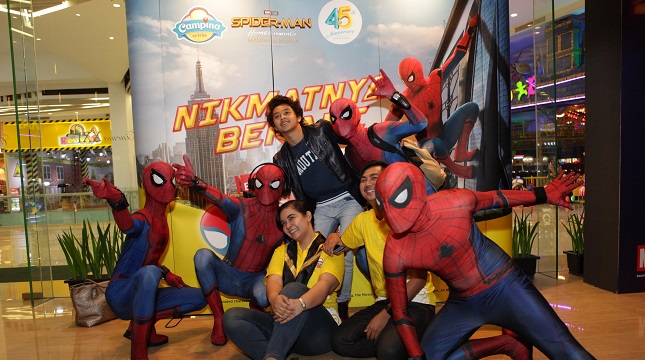 Spiderman Homecoming
INDUSTRY.co.id - Jakarta - The presence of the film Spider-Man Homecoming greeted enthusiastically Marvel comic fans in the country. This is apparent in the premiere of Spiderman Homecoming film held by Campina ice cream company, on Tuesday (4/7/2017) night. Nevertheless, the enthusiasm of the film lovers even by the media crew who want to watch is not responded well by the event organizers.
As experienced by some media colleagues who also attended the event. Yanto from Jakarta national media associates said he was invited by the event organizer via electronic mail to attend the film.
"He was disappointed because long queued to get tickets to watch, as a result the committee just said that the tickets are up. If this is how I can review the film, "he said
In addition, he said the registration process is too complicated to take time screening the film. Participants who want to attend the film are recorded twice.
"Usually I often attend film shows, but not this troublesome really. It has the contents of data in Notebook to absent in paper to grab the godibag coupon and release continue if you want to watch the movie we have to queue again, "he said with a disappointed tone.
The same thing happened to one of our editorial staff, despite having confirmed his presence on the invitation. Not necessarily easy to get.
"It's not the excitement of the film, it's the excitement of the queue of taking the ticket to watch, like the distribution of food staple coupons," Ahmad said.
The committee said it did not seem to appreciate the media crew time to queue up in the event. "The committee argues that the media is over quota and only 100 tickets are available. Whereas the committee has its own data. The chaos is increasingly becoming when some invited media are still not in the committee's data and are not allowed to watch the movie premiere as a series of reporting tasks to review the film, "he said.
For information, Campina ice cream company collaborating Sony Pictures Indonesia introduced the Campina Spider Man ice cream products. Campina Spider-Man comes with a combination of three unique flavors of Vanilla, Strawberry and Cotton Candy. These three unique flavors are processed and processed to a good standard resulting in a blend of delicious and delicious flavors.