Setya Novanto Does Not Want to Be a Slander Spreader
By : Herry Barus And Aldo Bella Putra | Thursday, January 04 2018 - 19:30 IWST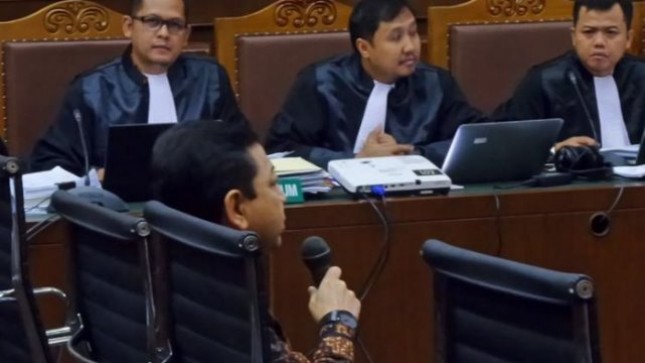 Mantan Ketua DPR Setya Novanto (Foto Dok Industry.co.id)
INDUSTRY.co.id -
Jakarta - Maqdir Ismail as lawyer Setya Novanto stated his client does not want to present himself as a witness of the perpetrator who cooperates with law enforcement or justice collaborator (JC) in order not to become a spreader of slander.
"We are not sure whether we want to ask JC or not, because we do not want to be a source of defamation," Maqdir said after undergoing an interlocutory hearing at the Jakarta Corruption Court (Tipikor) on Thursday (4/1) / 2017).
In the interlocutory verdict, the judges rejected the objection of Setya Novanto in the case of alleged corruption of Electronic ID card (KTP-E) so that the trial continued with the agenda of examination of witnesses next week.
Maqdir said it did not want to make Setya Novanto a "slanderer month" like previous sessions.
"I think that's a good thing to see, to be a JC we do not want to cause slander, there must be facts, there must be evidence, there must be witnesses," he said.
Maqdir confirmed that Setya Novanto cannot be called the main actor. "Because he is the House, it begins in the middle, even the end," he said.
Maqdir said that the main perpetrators of the KTP-E corruption cases are those of the Ministry of Home Affairs.
"But because the judges have decided and the judge's decision must be considered right and we must accept," said Maqdir.
According to KPK spokesman Febri Diansyah is open to all parties to become JC.
"If the defendant has the good intentions of being a JC please submit to the KPK, it must be considered and studied first, a JC must acknowledge its actions, and cooperatively open the roles of other parties more broadly and remember, JC cannot be given to the main perpetrators," said Febri .
Setya Novanto allegedly received 7.3 million US dollars and Richard Mille watches worth 135 thousand US dollars from the project ID card. The total state losses due to the project amount to Rp2.3 trillion. (Ant)