The Impact When Reshuffle Airlangga Hartanto Happens
By : Herry Barus And Aldo Bella Putra | Saturday, January 06 2018 - 15:00 IWST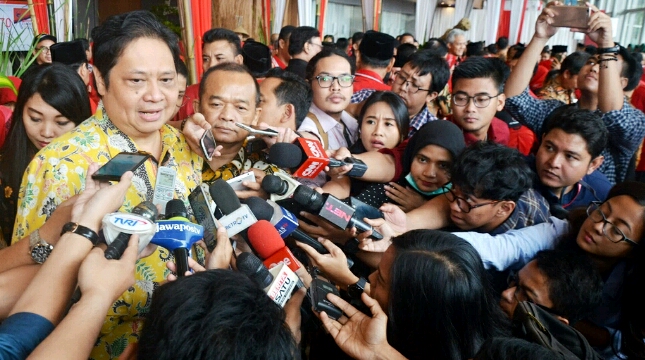 Menteri Perindustrian Airlangga Hartarto
INDUSTRY.co.id - Jakarta - Researcher from The Center for Strategic and International Studies (CSIS), Arya Fernandes said the change of the composition of the minister "reshuffle" against Minister of Industry, Airlangga Hartato has the potential to create political chaos in the Golkar Party.
In a discussion entitled "Should Airlangga Backward" in Jakarta, Saturday (6/1/2017) Arya assess the possibility will be very small for President Joko Widodo to shift Menperin Airlangga Hartato from his post after being elected Chairman of Golkar at the Plenary Party DPP Golkar Party in December 2017 ago.
"Because in two political 'reshuffles' it creates noise, Jokowi is very avoided once the noise, so does the effect on Golkar.If there is a ministerial change, there must be turmoil in the party," said Arya.
In less than a year, in August to September, the stages of Presidential and Vice Presidential Election 2019-2014 will also begin. Therefore, Jokowi assessed will still maintain the position of Airlangga as Minister of Industry.
In addition, Arya sees if the ministers reshuffle is done, Golkar should certainly propose other cadres who deserve to replace Airlangga in the middle of focus on the turn of Setya Novanto from the House Speaker.
All political parties were also preoccupied during the registration of the regional head on 8-10 January 2018 ahead of the Sergent elections in 171 regions.
On the same occasion, researcher from Saiful Mujani Research Consulting (SMRC), Sirojudin Abbas said the minister's reshuffle potentially damages Jokowi's relationship with Golkar.
"If there is a shift in Airlangga, I think it will damage Jokowi's relationship with Golkar because there is a need for Jokowi to keep 'leverage' of Airlangga politics in Golkar," Abbas said.
He sees Jokowi certainly needs support from other parties outside his supporters, namely PDI Perjuangan, if his steps are steady to advance in the 2019 presidential election.
Associated with Jokowi's promise since the campaign that ensures his ministers in the Working Cabinet there is no multiple positions primarily as chairman political parties, the decision not to shift Airlangga becomes less risky in the public eye.
Currently, Jokowi's legitimacy and electability as president has been high in the eyes of the public with the level of satisfaction and acceptance of "approval" 70 percent.
"When the campaign still has doubts in the public so it must be answered with a professional team.When the public does not doubt Jokowi's leadership and the burden of proof itself is getting smaller, Jokowi is not too heavy and risky if still maintain Airlangga in the current ministerial position," he said.