Philips Lighting Introduces New Lighting Transformation Software
By : Ridwan And Aldi Firhand. A | Monday, January 15 2018 - 23:23 IWST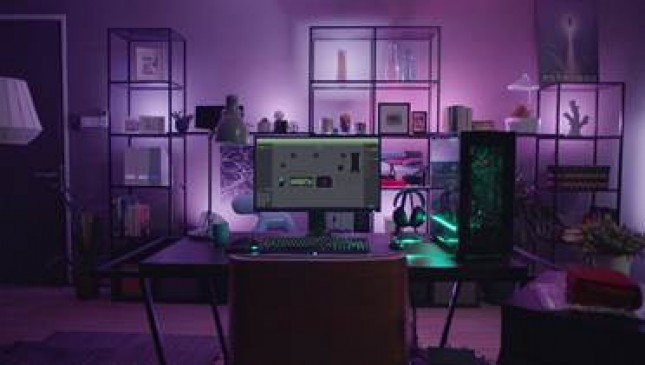 New Lighting Transformation Philips Lighting (Ist)
INDUSTRY.co.id - Nevada (USA), Philips Lighting again announced a number of new software features and improvements to the Philips Hue ecosystem. This update allows consumers to transform their everyday home lighting into a rich experience and even do more with light, from the living room to the backyard.
Philips Hue Entertainment is a natural Component for an immersive entertainment experience
Upon updating of free over-the-air software in December 2017, Philips Hue's Philips Hue customers with Philips Hue V2 color-capable lighting and bridges can enjoy a truly immersive home entertainment experience.
The new software, created as a result of pilot projects, in-depth knowledge and feedback gained from leading companies in the entertainment industry, synchronizes Philips Hue's lights with game content, movies and music perfectly.
Razer, the world's leading lifestyle brand for gamers, is the first partner to implement it.
Accompanying the new functionality of Hue Entertainment, Philips Lighting will introduce Hue Sync, an app for Windows 10 or MacOS High Sierra based computers, in Q2 of 2018.
Philips Hue Sync creates lighting scenarios for any game, movie or music that plays on your computer in-depth and soon, so that consumers can enjoy the content they play, watch, or listen to with more experience.
"From the beginning, Philips Hue is aimed at transforming everyday lighting into an amazing experience. We take this to the next level with the launch of Hue Entertainment, our first content partner announcement and the upcoming Hue Sync app launch," said Chris Worp, Business Group Leader Home, Philips Lighting through a press release in Jakarta, (14/1/2018).
He added, our first step is for gaming, which is the largest segment in the entertainment industry, followed by movie and audio integration. To go further and realize the full potential of a merger between light and entertainment, we grant access to the Philips Hue Entertainment API and its equipment to the developer community.
"We look forward to seeing the developer creativity that will be applied to our new application by making the most of Hue's deep strength," he said.
At the start of the Second Quarter of 2018, Philips Hue will introduce Hue's app redesign for iOS and Android. Based on comments, feedback and ideas from Philips Hue users, this redesign will enhance existing and new features, to help consumers illuminate their homes with smarter and even more ease.
The new app will increase daily usage, and ensure seamless ease of installation and seamless integration with Hue accessories and new Philips Hue Entertainment partners.
The interface will also allow consumers to instantly access the latest lighting scenarios they use, as well as grouping the lights and selecting the desired color or color intensity easily.
In the summer of 2018, Philips Lighting will bring Philips Hue's experience outdoors by introducing an outdoor product suite for the first time.
This new product suite enables consumers to get more benefit from their exterior lighting by allowing them to personalize the atmosphere for any moment outside their room, whether just to relax with family or entertain friends. It will also improve their peace of mind when arriving at home or while traveling.