Price of Rice Falls 1,300 / Kg, Farmers Feels Burdened
By : Dina Astria And Aldo Bella Putra | Tuesday, January 30 2018 - 20:00 IWST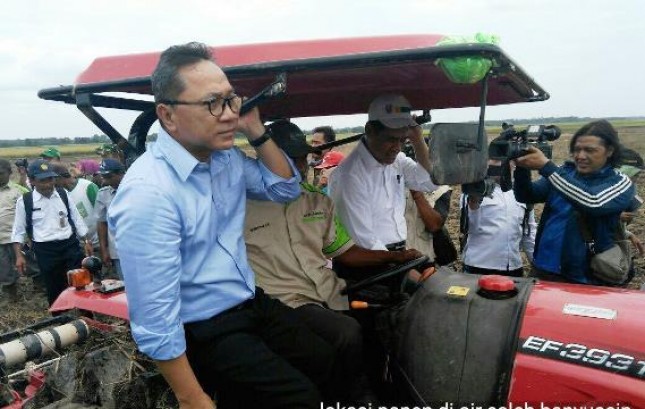 Ketua MPR RI, Zulkifli Hasan (Foto Dok Industry.co.id)
INDUSTRY.co.id - Palembang - Chairman of the People's Consultative Assembly, Zulkifli Hasan asserted that the farmers refused to import rice. The reason, this time has entered the harvest season, so that the rice in the country is sufficient and the price of grain has decreased. Therefore, he also asserted that Indonesia can export rice.
Today we ask directly to the farmers, the price of grain was Rp 5,500 per kilogram now Rp 4,200. So the farmers reject the import of rice, if necessary we export rice, according to Zulkifli Hasan at the location of 2.238 hectares of rice in Upang Marga Village, Air saleh District, Banyuasin Regency, Monday (29/1/2018).
Attending the event were Minister of Agriculture Andi Amran Sulaiman, Chairman of the People's Consultative Assembly, Zulkifli Hasan, Chairman of the House of Representatives, Bambang Soesatyo, Head of KSP Moeldoko, Commander II Sriwijaya, Major General TNI Anto Mukti, Wakasad Army Lieutenant General Tatang Sulaiman, and Aster KASAD Maj. Gen. Supartodi , Commission IV of DPR RI Firman Subagyo, Committee II DPD RI.
In addition, there are also Kabareskrim Ari Dono Sukmanto, Food Satgas, Head of KPPU Syarkawi Rauf, Banyuasin Regent, Supriyono, Director of Bulog and 1,100 farmers.
Head of the Food and Horticultural Crops Agency of South Sumatra Erwin Noor Wibowo Erwin explained that South Sumatra is a national rice barn and 2017 surplus of 2.3 million tons. Noted, rice production in the form of unhulled rice in January 2018 is certainly rising. The reason for the weather at the time of planting in September 2017 is quite good, so the productivity obtained reaches 5.5 to 7 tons per ha.
About the price of grain, it is now down. Prices of dry grain harvest in previous farmers Rp. 5,500 has now become Rp 4,200 per kilogram. This means that the price plummeted Rp 1,300. The farmers here refuse the obvious import.
But the irony, the issue of import and enter the harvest price of rice has plummeted drastically. For that, we hope Bulog to absorb rice farmers, so that prices do not fall even lower, he continued.