Indonesia- Australia Strengthen Cooperation in Digital Economy
By : Ahmad Fadhli And Aldo Bella Putra | Thursday, February 01 2018 - 17:00 IWST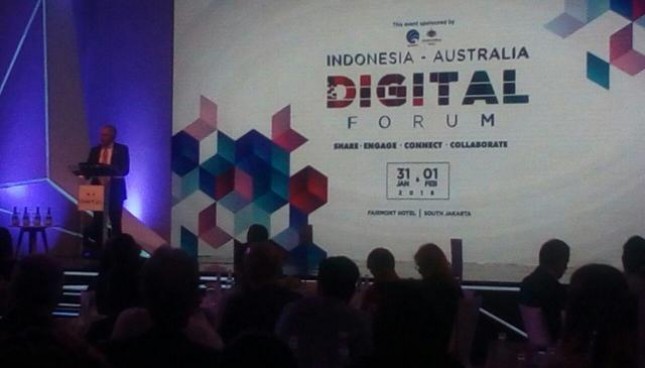 Indonesia-Australia Digital Forum (IADF) untuk meningkatkan kerjasama dalam bidang ekonomi digital.
INDUSTRY.co.id - Jakarta -Government through the Ministry of Communication and Informatics cooperates with Australia in the Indonesia-Australia Digital Forum (IADF) forum to enhance cooperation in the field of digital economy.
"This forum is part of the Indonesia Unicorn program. I am sure that before the end of this year there will be significant changes between Indonesia and Australia in the digital field, "said Minister of Communications and Informatics Rudiantara at the Indonesia-Australia Digital Forum (IADF) 2018 at Fairmont Hotel, Thursday (1/2/2018).
Menkominfo in his opening speech at the opening plenary revealed that Australia as the nearest country has the opportunity of digital space in Indonesia "Opportunities for Australia actually come from the next layer, the application layer, more than 10 percent of investment comes from digital space," said Rudiantara.
In the digital sector the Ministry of Communications and Informatics implemented a policy that makes it easy for startup companies.
"Even for startup they are not required to seek permission from the government. Only need to register, so if the government has an incentive program for sta Indonesia has 4 unicorns in digital space. "Clear Chief RA
Currently the Ministry of Communications and Informatics together with the Creative Economy Agency started the Nexticorn program, where its objective is to attract investors to invest their capital.
"Many foreign investors want to invest but they do not know who the startup will be financed. There may be hundreds, thousands of startups, but do not know who. So the government and ecosystems through this program help memprovide communication between potential investors and startup, we can know who they are and what business. " Added Menkominfo.
Meanwhile, Minister of Social Services and Minister of the Prime Minister of Digital Transformation Michael Keenan said that Indonesia and Australia have similarities in the strategic field, challenges, and opportunities to continue to build economic cooperation.
One such opportunity and challenge is to leverage the power of digital technology to change the way in daily life, doing the job, and doing business.
"We must learn from each other, including the successes and failures of each," explained Keenan.