The Closing of Erau Katim Festival Attended by 19 Ambassadors
By : Aldi Firhand Alqudri | Monday, July 31 2017 - 22:50 IWST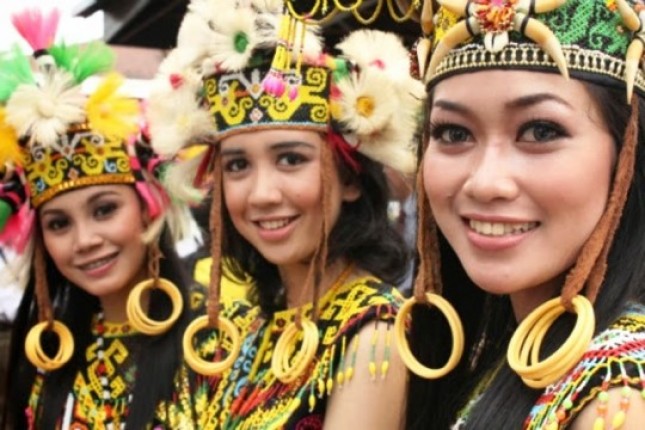 Dayak Tourism
INDUSTRY.co.id - Jakarta - Closing the Kutai Erau Traditional Festival or Erau International Folk Arts Festival (EIFAF) was attended by 19 ambassadors of friendly countries at Mulawarman Museum, Tenggarong, Kutai Kartanegara Regency, East Kalimantan, Sunday (30/7/2017)
"Erau Festival is already known to the public and became the most popular festival at the Enchantment of Enchantment Indonesia 2016," said Regent Kutai Kertanegara, Rita Widyasari in his speech.
Rita Widyasari explained Erau Festival managed to bring as many as 15,000 tourists every day to Tenggarong. In addition, the closing of the Erau Festival was also attended by 19 ambassadors of friendly countries.
"It is an honor for us to be visited by 19 ambassadors of friendly countries".
Rita explained the target at the implementation of Erau 2017 Festival is reached. This happened because of good cooperation with the Sultanate of Kutai Kertanegara Ing Martadipura.
Rita explained that the closing of the Erau Festival is a special moment for the community because there is a Belimbur event, a tradition of purification after Erau. She said to Belimbur if accompanied by a sincere intention then usually granted.
"We hope the future of this festival is more lively again".
Erau International Folk Festival Festival (EIFAF) held in Tenggarong, July 22 to July 30, followed by eight friendly countries. These countries are South Korea, Japan, Poland, Bulgaria, India, Slovakia, Thailand, and Taiwan.
Belimbur event conducted after the event Drawing Dragon. After the event "Ngulur Dragon" or "Drawing Dragons" finished the event "Belimbur". Belimbur begins after Water Tuli from Kutai Lama arrives in Tenggarong, then held the procession of Sultan Kutai Kartanegara Ing Martadipura HAM Salehuddin II goes to the hall made of yellow bamboo or Rangga Titi.
The sultan then sprinkled the Deaf Water onto himself with a pinang and then afterwards, sprinkled on the people around him. When the Sultan sprinkles the water to those around him that is the sign of "lava" begins.
Between observations, almost in all corners of the city performed the tradition of Belimbur. People are waiting in front of the house and watering passers by water. Gourd is done from 11:00 to 15:00 WITA.