Panorama Group will Continue Support Indonesia Tourism Industry
By : Abraham Sihombing And Aldo Bella Putra | Friday, February 02 2018 - 23:00 IWST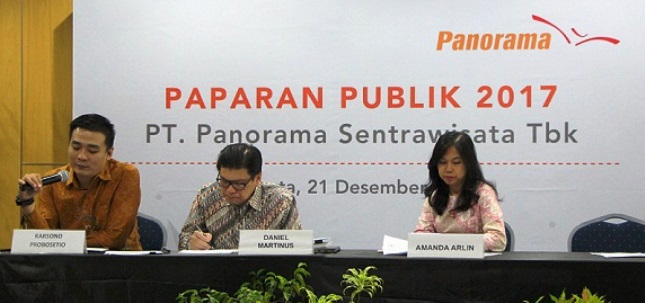 PT Panorama Sentrawisata Tbk (PANR) (Foto Abe/INDUSTRY.co.id)
INDUSTRY.co.id - Jakarta - Panorama Group will continue to support Indonesia's tourism industry by contributing more to the industry that is currently experiencing positive growth momentum, especially on the massive government of Wonderful Indonesia campaign conducted abroad.
This was stated by Budi Tirtawisata, Group CEO of Panorama Group, in the 2018 Mega Conference event titled "Taking Pride in Tourism: Indonesia and Asia Pacific Outlook Toward 2020" at Ritz Carlton, Pacific Place, Jakarta, Thursday (01/02/2018).
Panorama Mega Conference 2018 was held simultaneously with the anniversary of the Panorama Group to-45. The event was attended by more than 500 participants coming from the tourism industry and stakeholders.
"Through this conference, we will provide an overview and insight for stakeholders in Indonesia's tourism industry, Panorama is very optimistic to welcome the future of Indonesian tourism, especially by 2020. Our strategic business unit will be energized to be more active in responding to emerging trends so as to continue delivering best for all our stakeholders," said Budi.
The Mega Conference panorama presents panelists from the global tourism industry such as Gloria Guevara, President & CEO of World Travel & Tourism Council (WTTC); Hiroyuki Takahashi, President & CEO of JTB Corp.; Darren Ng, Managing Director of TTG Media Asia; and Arief Yahya, Minister of Tourism RI.
On the occasion, Arief Yahya, Minister of Tourism RI, revealed, the current government continues to push tourism into the leading sector for Indonesia. Therefore, Indonesia's tourism sector needs the right strategy to reach the big target, one of which reaches tourist visit by 20 million in 2019.
"We have tremendous potential and have set incredible targets as well. Great results can only be achieved in an unusual way," said Arief.
Arif argued it has been proved by the success of pushing Indonesia's ranking from unlisted (Not Available), to the 47th rank of the world at World Economic Forum in 2017.
The achievement was able to surpass Malaysia in the position of 96 and Thailand in 83rd position. Another increase can also be seen from the increase in the Wonderful Competitiveness Index of Indonesia which rose 8 points, from the position of the world's top 50 to rank 42.
Meanwhile, related to the development of global tourism, Gloria Guevara, President & CEO of World Travel & Tourism Council (WTTC), revealed the tourism sector is one of the important sectors for a country.
"Tourism in Indonesia contributes 6% (direct, indirect, induced) of total GDP and bring in foreign exchange of Rp220 trillion. In addition, tourism provides 2.4 new jobs, so this sector is one of the important sectors for the Indonesian economy," said Gloria.
"Minister Arief Yahya is very inspiring. His dedication to build Indonesian tourism is extraordinary. Now Indonesia tourism is growing very good. All sectors are growing," said Budi Tirtawisata.
For this achievement, Panorama Group awarded The Most Outstanding Achievement for Arief Yahya. The award was presented at the Panorama Awards 2018 at Ritz Carlton, Pacific Place, Jakarta. (Abraham Sihombing)