Starting February 15 Padaleunyi Cipularang Toll Tariff Rose
By : Ahmad Fadli And Aldi Firhand. A | Friday, February 09 2018 - 21:48 IWST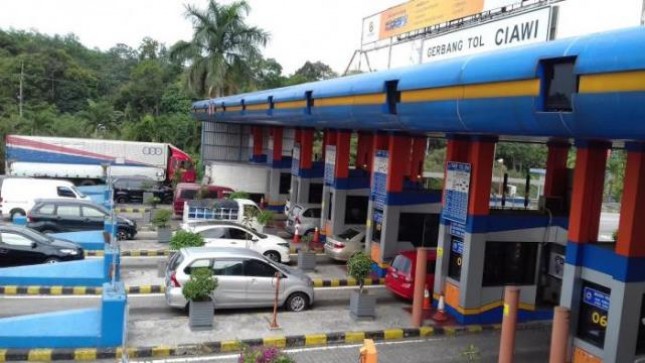 Illustration of toll booth (Foto Ist)
INDUSTRY.co.id - Jakarta - PT Jasa Marga (Persero) Tbk's Operational Director II said that starting from February 15, 2018, the toll tariff in the Padalarang-Cileunyi (Padaleunyi) and Cikampek-Purwakarta-Padalarang (Cipularang) segments rose between Rp500-Rp2,000 following the rising inflation cost. The increase follows West Java inflation rate of 6.3 percent.
"In accordance with the Ministerial Decree of PUPR regarding tariff adjustment there will be a tariff increase on February 15th at 00.00 local time following the 6.3% inflation rate," Subakti said after a press conference on Thursday (8/2/2018).
Ministerial Decree which is meant by Ministerial Decree of PUPR no. 96/2018 on Tariff Adjustment of Padalarang-Cileunyi Toll Road and Decree of the Minister of Public Works and People's Housing no. 97/2018 on Toll Road Adjustment of Cikampek-Purwakarta-Padalarang Toll Road.
Subakti said that not all toll gates are subject to tariff increases. He pointed out to the Pasteur-Pasirkoja and Pasteur-Kopo toll gates, which are fixed. "The average rises Rp500, but for the short gates it does not rise because the inflation rate is only 6.3%."
Meanwhile, the example of the toll gate that rises for Group 1 on the Cipularang toll road is at SS (Arang Interchange) Dawuan-Sadang for Rp500 to Rp7.000; Jatiluhur-Dawuan for Rp1,000 to Rp13,000; to Padalarang-Sadang for Rp2,000 to Rp39,500.
Meanwhile, the example of the toll gate that goes up for group 1 on the Padaleunyi toll road is the SS Padalarang-Pasirkoja toll road of Rp500 to Rp4,500; Cileunyi-SS Padalarang of Rp500 to Rp9,000; and Pasteur-SS Padalarang for Rp500 to Rp3,500.
Toll rate evaluation and adjustment are routinely conducted every 2 years by the Toll Road Regulatory Agency based on the old tariff adjusted to the inflation rate in certain areas.
Along with the tariff increase, PT Jasa Marga Tbk. is also working on improvements and continuous improvement of the Padaleunyi and Cipularang sections in order to improve services for road users, including additional lanes, capacity building and transaction services, improvement and / or handling of toll road support facilities.