Minister of Agriculture Joint Rector Forum Forming Food Working Group
By : Dina Astria And Aldo Bella Putra | Saturday, February 17 2018 - 21:00 IWST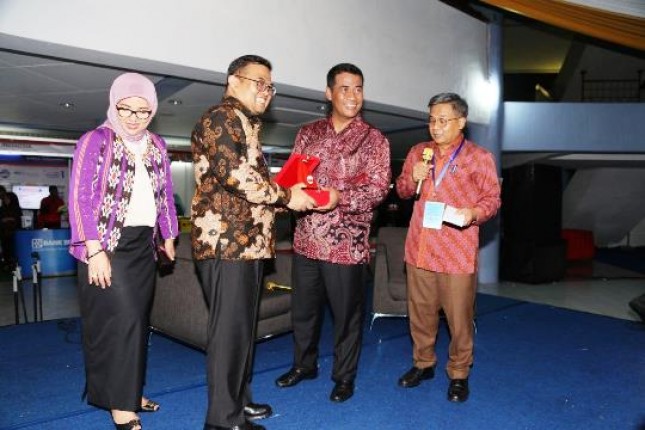 Mentan Andi Amran Sulaiman (Dok Industry.co.id)
INDUSTRY.co.id - Makassar - Minister of Agriculture Andi Amran Sulaiman took part in a dialogue with Indonesian Rectors in the Campus Convention which is part of a series of Indonesian Rector Forum event at Hasanuddin University (Unhas), Makassar on Thursday (15/2/2018).
Minister of Agriculture expects the active role of higher education for Indonesian agriculture.
"Traditional agriculture should turn into modern agriculture. We already have our 2045 road map to become a world food barn.
To be a modern agriculture requires technology and the University is able to find a variety of superior technologies. The support of rectors and academics is absolutely essential in building agriculture," said Amran.
The Minister and also lecturer of UNHAS also stated that the current Ministry of Agriculture must move quickly. "Policies that hamper Agriculture should be eliminated," Amran said.
One example of policy is the procurement of seeds, fertilizers, pesticides and agricultural machinery (alsintan) which previously tender into direct appointment through e-procurement system and e-catalog. Meanwhile, harvesting, planting and pest alleviation cannot wait for the tender.
In addition to policy issues, the Ministry of Agriculture also made major changes in human resources; budget, until the downstream efforts of agricultural products.
Amran hopes the campus can give full support to Agriculture. Because, innovation coming from the campus. "Food is the most strategic issue of security in the future, the need for food and energy is increasing, while the land is fixed." What can be answered is technology, and this comes from the campus, " explained Amran.
We really appreciate innovation. If there are new discoveries from researchers on college campuses, Amran hopes to put them directly into e-catalogs. "We buy directly, we give royalty, as a reward," said Amran while hoping agricultural research can be in line and synergize with the government's vision to dismiss the sectoral ego.
Currently Indonesia Must be optimistic because some commodities began to be self-sufficient, even export. "The onion is always imported, now it has export to 6 countries, so also the corn has export and neighbor country is ready to receive more" said Amran proudly.
In the dialogue attended the Chairman of the Forum Rector Indonesia was elected Prof. Dwia Aries Tina Pulubuhu, MA
And Vice Chairman of the Rector Forum Prof.Sutarto Hadi, MSc
Rekror Forum agreed to form a special unit in charge of food in the form of Working Group (POKJA) Food.
This Food Working Group will intensively encourage the use of technology and regularly conduct coordination meetings discussing various innovations and their implementation.
The Food Working Group must be implemented, ie the results of the University's research should be directly applied to the farmers.
Innovation of superior seed technology, technical cultivation, and mechanization, post-harvest and other universities generated to be applied in the field. For example the discovery of IPB-3S rice seedlings has now been distributed to farmers through the program Ministry of Agriculture.