West Kalimantan Police Chief Commands to Capture Directly Karhutla Actors
By : Herry Barus And Aldo Bella Putra | Sunday, February 18 2018 - 21:00 IWST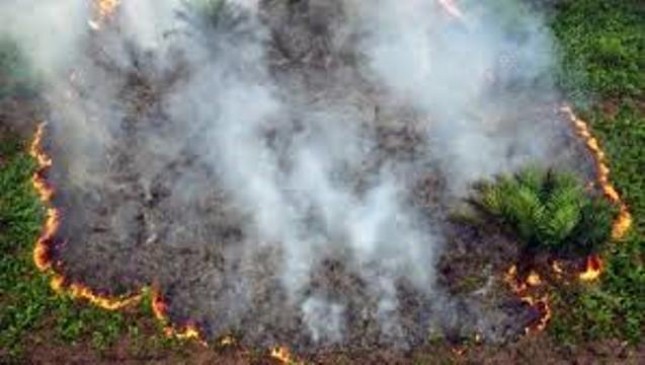 Ilustrasi Kebakaran Hutan dan Lahan (Foto ist)
INDUSTRY.co.id - Pontianak - West Kalimantan Police Chief, Inspector General of Police Didi Haryono said that he has ordered the whole range to arrest the perpetrators of land burning and take firm action against forest and land fire cases in every area in West Kalimantan.
"Last night we were with Kodam XII and the people in the Rasau Jaya area tried to extinguish the fire from Karhutla at Jalan Wonodadi 2 and Patria Jaya Hamlet. There are two settlements that almost burned by fire from Karhutla there," said Didi in Pontianak, Sunday (18 / 2/2018).
He explained that the Police and TNI with the community work together in extinguishing the fire. Lucky with the readiness of all, the fire was not to burn home residents.
Related to the land fires, he stated that there will be many losses that will be experienced by society, such as public health will be disturbed, not to mention the smoke will also disrupt the smoothness of air and sea transportation.
"For that I have ordered my ranks to arrest the person who deliberately burn the land we will not play games because this karhutla is very disturbing the community," he said.
Didi said, based on the experience of the past years where Karhutla had caused many victims of ARI and transportation activities also become disrupted. For that he hopes that this does not happen again in West Kalimantan.
"For that we expect cooperation from all communities, so as not to burn the land, or we act decisively," he said.
Known, forest and land fires (karhutla) began to bloom in West Kalimantan, since this week. Based on data from the Head of the Regional Disaster Management Agency (BPBD) of West Kalimantan Province, about 2,000 villages there, there are 182 villages currently being monitored in mobilization prone to Karhutla.
"So it is expected assistance from the Police to seek prevention and prosecution of Karhutla case," said Head of BPBD Kalbar, TTA Nyarong as reported by Antara.
Nyarong explained that in 2015, the number of hotspots found in West Kalimantan is very high. Then it declined in 2016 and a very drastic decline in 2017. For that, he invites before impacting further, it is good application or how that has been executed from last year can be developed in 2018.