Campaign for Election of Regional Chairman in South Sulawesi Suggested Stay Away from Hoax and SARA News
By : Herry Barus And Aldo Bella Putra | Monday, February 19 2018 - 23:00 IWST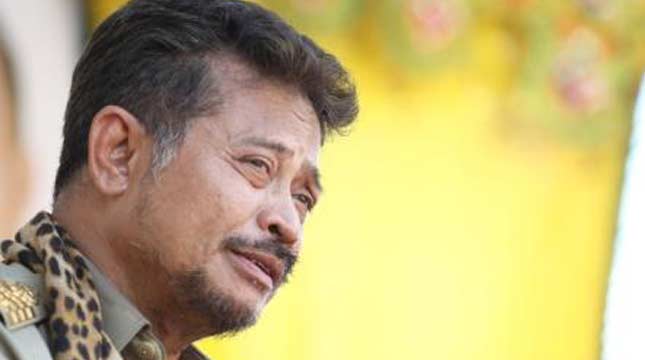 Gubernur Sulawesi Selatan (Sulsel) Syahrul Yasin Limpo
INDUSTRY.co.id - Makassar - South Sulawesi Governor Syahrul Yasin Limpo called for a Election of Regional Head Campaign to be held without "hoaxes," religious and racial issues (SARA) and without money politics.
"Let the pilkada campaign without hoax, SARA, and money politics, all in accordance with the symbols of our cultural customs, sipakatau, sipakalebbi, pacce and siri, well preserved," said Syahrul on the sidelines of the implementation of the Declaration of Peace Election, at Losari Beach Pavilion, Makassar, Sunday (18/2/2018).
Sipakatau, sipakalebbi, pacce and siri is a Bugis-Makassar philosophy which means uniformity, mutual remembrance, mutual respect, self-esteem and honor.
The people of South Sulawesi, said Syahrul, can be dynamic, and compete sharply, but still maintain social values ​​and norms.
He conveyed, as governor, and representing the people of South Sulawesi, it welcomes the declaration of peaceful elections centered in Makassar.
So far, he said, in every process of democracy passed during the election of regional head, South Sulawesi has always been an area that entered the red zone, but able to live in peace.
"I am sure that this time will be peaceful, peaceful, smooth and orderly, and we are all accustomed to obeying the rules," said Syahrul as quoted by Antara.

Meanwhile, Chairman of KPU RI Arief Budiman, said it wants South Sulawesi can be an example of peaceful elections, and inspire 171 other regions that implement election of regional head in Indonesia.
"South Sulawesi would be one measure, a barometer of whether the elections can be safe and peaceful," said Arief.
Arief said that election organizers must open wide public access to know the election stage. As for the election participants, also must be transparent to the whole program and vision of its mission.
"We see Makassar as a strategic place to be one of the mouthpieces to disseminate peaceful elections," he said.
According to him, Makassar is one of the areas whose number and characteristics of voters are somewhat sensitive. So, to be reminded, for election organizers must be careful, as well as with election participants and voters.
"Hopefully what is voiced from Makassar gives influence to other regions in order to make the election peaceful," he hoped.