Dari Mojokerto, Rizal Ramli Gaungkan Keadilan Bagi PKL
By : Herry Barus And Aldo Bella Putra | Monday, February 26 2018 - 14:00 IWST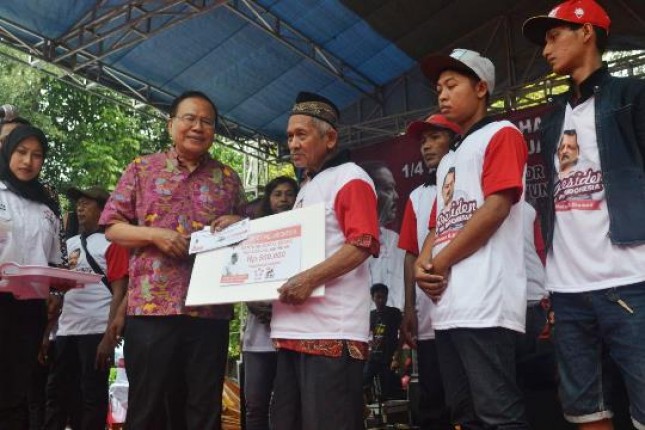 Tokoh Nasiona Rizal Ramli (Foto Dok Industry.co.id)
INDUSTRY.co.id - Mojokerto - After the visit to Pasuruan, East Java, to visit the temple, a number of pesantren, and dialogue with the kiai related to efforts to maintain harmony between people and in the framework of the Lunar New Year last week, national figure Dr. Rizal Ramli today, Sunday (25/2/2018) performs history and culture of the nation by visiting the Hall of the Great Hamukti Palapa Gajah Mada, in Trowulan, Mojokerto, East Java, which is part of the Sitihinggil Raden Wijaya complex, the first king and founder Majapahit kingdom.
In the place of Maha Patih Gajah Mada pronounces this Palapa Oath, Rizal Ramli is also asked to give a speech during the 25th Anniversary of Indonesian Traders Association of Kali Lima Indonesia (APKLI). In the event that was attended by thousands of street vendors from various regions in Indonesia, Rizal Ramli reiterated the importance of the alignment to the elements of the weak community such as street vendors, who from time to time have not changed much in the absence of government alignments.
"The five legs are only considered as decoration when other sectors cannot accommodate," said Rizal Ramli. "There are no steps so that the five legs will be honored, even though the contribution to the national economy is quite large."
Coordinating Minister for Economic Affairs Gus Dur, who is also Coordinating Minister for Economy and Resource of President Jokowi era, emphasized that the various licenses that complicate the business of the footpath should be removed. In fact, Rizal urged tax exemptions to small-scale street vendors, until his income could reach Rp 500 million per year.
"There should be an unsecured loan, but based on a loan history," continued the founder of the think-tank Econit.
Interestingly, from the visit of former UN Team of Economic Team Team in Raden Wijaya Complex and Gajah Mada Hall, Trowulan, Mojokerto, Rizal Ramli in 1982 lived in that area, precisely, when he became BRI reform coordinator field (Bank Rakyat Indonesia) Village Unit which was then the product Simpedes and Kumpedes.
Meanwhile, APKLI Chairman Ali Mahsum said in his speech, that street vendors can become an element of national economic growth. But he is concerned that the current national economy is similar to that of the 13th century archipelago, a vulnerable phase in which the foreign powers represented by Kublai Khan (one of the Mongol leaders who fascinated China) tried to dominate the archipelago. But this effort was shrewdly acted by Prince Wijaya, in addition to successfully expelling foreign forces Kublai Khan, Raden Wijaya also succeeded in establishing Majapahit after defeating Kertanegara with the help of Kublai Khan's army.