Japan Satisfied With The Development Of Utilization Of Semen Indonesia Plant Dispose Gas in East Java
By : Hariyanto And Aldi Firhand. A | Wednesday, February 28 2018 - 18:40 IWST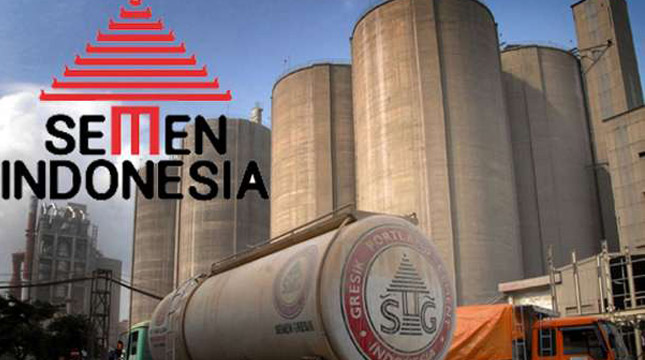 PT Semen Indonesia Tbk (SMGR) (indonesianindustry)
INDUSTRY.co.id - Tuban - Japan Environment Ministry representative Kunihiro Suga said he was satisfied with the construction of Waste Heat Recovery Power Generation (WHRPG) or the utilization of exhaust gases at the Tuban Cement Plant in Tuban, East Java to reduce CO2 emissions, because it has functioned effectively.
"I have seen myself by going up and down the stairs, The project has been well executed and we will report the results to the Government of Japan," Kunihiro said after seeing the Indonesian Cement Factory in Tuban, Tuesday (27/2/2018).
Kunihiro, who is also CEO of the Global Enviromental Center (GEC) Foundation, said the development of WHRPG Tuban plant is a joint venture between the Government of Indonesia and the Government of Japan through the Joint Crediting Mechanism (JCM) scheme, and Japan provides US $ 11 million subsidy for development.
Director of Enamel and Semen Indonesia, Tri Abdisatrijo said PT Semen Indonesia continues to commit to creating a friendly environment in every operational activity, including building a WHRPG at Tuban Plant in cooperation with JFE Engineering Japan.
The exhaust gas utilization project at Tuban Plant, capable of reducing CO2 emissions of 122,358 tons per year, or equivalent to planting 4,295 trembesi trees in 96 hectares of land.
"As it is known that the trembesi tree is the best tree in absorbing CO2, a trembesi tree can absorb 28.5 tons CO2 / year," he said.
The WHRPG project at Tuban Plant, he said, has been done in all factories, Tuban 1, 2, 3 and 4 initiated since 2014. "WHRPG in Tuban is the largest in Indonesia and even Southeast Asia capable of generating 30, 6 MW, "he said.
He explained, in its operation WHRPG does not use coal or fuel, but uses heat from exhaust gas plant operations.
Meanwhile, GEC Foundation CEO Kunihiro Suga's visit was accompanied by the Head of Deputy for Multilateral Economic Cooperation and Financing of the Coordinating Ministry for Economic Affairs, Cahyadi Yudodahono and received by Semen Gresik President Director Mukhamad Saifudin, accompanied by Semen Gresik Production Director Joko Sulistyanto and Semen Gresik Finance Director Ginarko Isnubroto . (ant)