Production of Bojonegoro Tobacco Simply Fulfill the Industrial Needs
By : Aldo Bella Putra | Tuesday, August 01 2017 - 11:33 IWST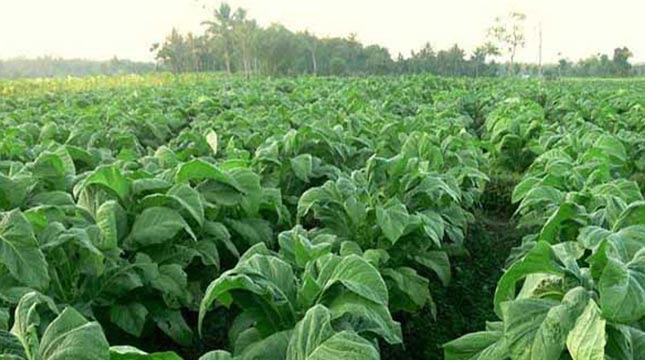 5166
INDUSTRY.co.id - Bojonegoro- Production of Virginia Voor Oogst (VO), Virginia RAM and Java tobacco plants in Bojonegoro, East Java, with an area of ​​8,939.8 hectares will be able to meet the needs of buyers from tobacco manufacturers and entrepreneurs.
Head of Field (Kabid) Annual Plant Office Bojonegoro Imam Wahyudi Agriculture Office in Bojonegoro, Monday (31/7/2017) describes the tobacco plant area of ​​8,939.8 hectares is an embedded tobacco plant as of 31 July.
Data of the planted tobacco plant, he added, widest in Kepohbaru Sub-district reached 2,827 hectares, Kedungadem 956 hectares and 766 hectare Baureno District.
Other tobacco plants, he added, spread in several villages in Sumberrejo District, Gayam, Pruwosari, Malo, Tambakrejo, Sukosewu, and Kanor.
"The presence of rain a few days ago that damaged tobacco plants in the northern region in Kanor District not much reduce production," he said.
According to the data received, he said, a number of manufacturers, as well as tobacco entrepreneurs, will make the purchase of Virginia VO tobacco, Virginia RAM and Java as many as 8,400 tons of dry tobacco.
Based on the demand for tobacco, he continued, the area of ​​tobacco plants needed, to meet the needs of manufacturers and entrepreneurs this year planting season for Virginia VO 7,750 hectares, Java 83.33 hectares and Virginia RAM 1,500 hectares.
"The extent of tobacco plants that have been planted will be able to meet the needs of manufacturers," he said optimistically.
As per the reports received by PT. Central Agro Mandiri will purchase tobacco Virginia VO 1,000 tons, and PT. STTC 1,000 tons and PT. Djarum Group 3,500 tons.
While PT Bentoel has 100 tons, CV. Sumber Rejeki has 500 ton, PT. Gudang Garam has 1,000 tons, CV Sumber Mulyo has 500 tons and CV Gelora Jaya has 1,800 tons.
In addition, PT Sadana Arifnusa Ngawi, who partnered with farmers will also purchase tobacco Virginia RAM 1,000 tons.
"PT Gudang Garam and PT Djarum Kudus also partner with farmers," he said.
He is optimistic the production of tobacco plants in his region during the tobacco planting season this year can be absorbed by tobacco manufacturers and entrepreneurs, because there are also tobacco merchants who will make tobacco purchases.
"Usually, tobacco traders from outside the region come when harvesting," he said.