PLTS Tepian Has 75kW Capacity to Illuminate North Kalimantan Border Area
By : Hariyanto And Aldo Bella Putra | Tuesday, March 13 2018 - 19:00 IWST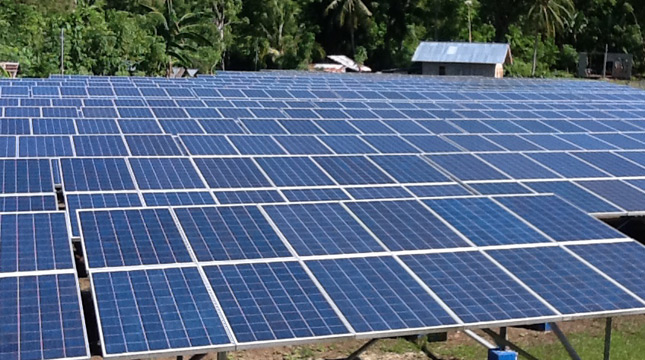 PLTS Ilustrasi (ist)
INDUSTRY.co.id - Nunukan - The Ministry of Energy and Mineral Resources (ESDM) through the Directorate General of New Energy, Renewable Energy and Conservation (DG EBTKE) inaugurated the operation of the Solar Power Plant (PLTS) concentrated in Tepian Village, Sembakung Subdistrict, Nunukan District, North Kalimantan, 10/3/2018) then.
This power plant is the second centered PLTS which was inaugurated by the Directorate General of EBTKE in 2018 after the Balatan Datu PLTS in Takalar, South Sulawesi, inaugurated early last February.
Director General of EBTKE Rida Mulyana conveyed that the development of PLTS in remote areas, small islands and border areas is one of the government's programs to improve the distribution of energy access to the community.
The Government continues to commit to providing equal access to energy for all Indonesians. At least 2,519 villages in Indonesia which are in the foremost and outermost areas are still waiting for the presence of electricity in the region.
"According to the vision of Nawacita Mr. President, we do prioritize the provision of electricity in the front, outer and remote areas," said Rida.
Nunukan regency is one of the areas in Indonesia that borders directly with Malaysia. The presence of the state through the development and provision of access to electricity in the region becomes binding to the Unitary State of the Republic of Indonesia, a commitment of the Government to build Indonesia from the forefront (border) as the nation's leading guard.
PLTS Tepian built with APBN funds in Fiscal Year 2017 with total development costs spent Rp 5.9 billion. The PLTS, which has been operating since December last year, has a capacity of 75 kilo Watt (kW) and can illuminate about 144 houses as well as public facilities such as mushala, schools and village offices.
Each house has 220 Watt power with a usage limit of 600 Watt for 24 hours. While special public facilities limit the maximum use of 800 Watt per 24 hours.