Kahmi: The Dangerous Sukmawati Soekarnoputri Figure in Indonesia
By : Wiyanto Dan Aldo Bella Putra | Wednesday, April 04 2018 - 14:00 IWST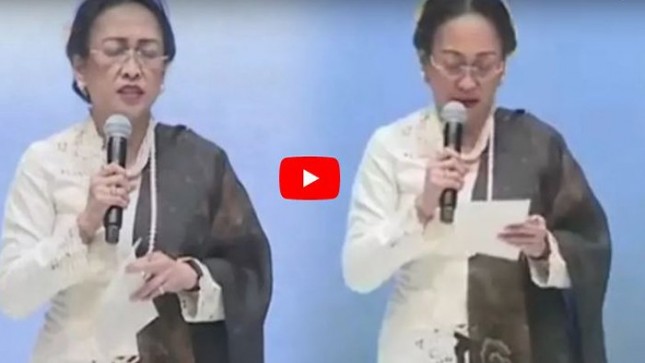 Video Puisi Sukmawati yang melecehkan Islam (Tribunnews.com)
INDUSTRY.co.id - Jakarta - The Presidium of the National Assembly of Kahmi is deeply regretted, in the midst of cooling and creating an atmosphere towards a more conducive and restoration of the post-election situation of the nation of Jakarta which is so very high dynamics, no wind no rain, suddenly born poems that seem re-invite the atmosphere of conflict between the Islamization and the Indonesian.
Even more dangerous, controversial poem came from family members who have been honored as Father of the Nation, who in participating in the birth of Indonesia is very strong understanding of the culture of a religious Indonesia, cultured, and civilized.
Ahmad Doli Kurnia Presidium of the National Assembly Kahmi said Indonesia born by Bung Karno and other founding fathers is Indonesia based on the values ​​of Godhead, Humanity, and Togetherness that respects diversity and difference.
"What has been done by Mrs. Sukmawati is something that can injure the life that her mother had originally built in. What is said by Mrs. Sukmawati has nothing to do with artistic, cultural and political contradictions What Mrs. Sukmawati has to say is something that mistaken, contradictory, and dangerous for Indonesia," he said in Jakarta, Wednesday (4/4/2018).
According to him, Kahmi and the HMI Family, born two years after independence, the Islamic and Islamic values ​​are one and inseparable doctrine in committing and performing all of its roles, contributions, and activities as a nation child. And Kahmi will always be at the forefront of guarding if there are forces that seek to separate Islamic and Islamic values.
And it applies to every aspect of people's life, nation and state. All thoughts, speech, behavior, behavior as the nation's children must reflect the development of a peaceful, harmonious, harmonious and peaceful life based on the values ​​of religiosity and Indonesian culture.
"Wise step that must be done by Mrs. Sukmawati is self introspection and apologize to the people of Indonesia, as a knight and statesman like the Proclaimer, his father," he said.