The Main Actor is Still a Secret, Joko Anwar Ready to Make Gundala Films
By : Amazon Dalimunthe And Aldi Firhand A | Thursday, April 05 2018 - 21:55 IWST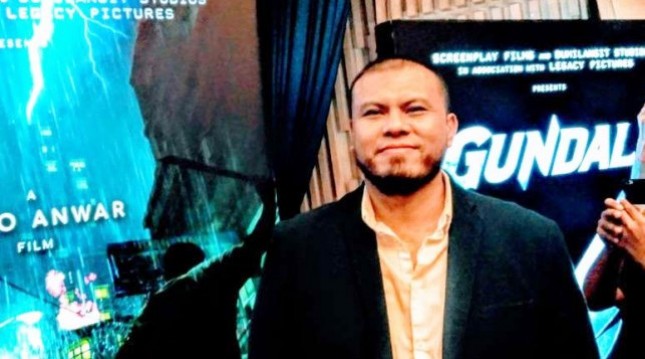 Joko Anwar
INDUSTRY.co.id - Jakarta, - Although still has an official player, the director who is rising prestige, Joko Anwar, claimed to be ready to produce a superhero movie ala Indonesia titled Gundala. The film is co-produced by screenplay Pictures, Bumi Langit Studio and Legacy Pictures and will start shooting in July Upcoming.
Earlier in September 2014, Hanung Bramantyo announced he would direct the same movie that is Gundala Putra Petir. At that time the film will be made under the banner of Mahaka Pictures and Bumilangit Studios is planned to release in 2016. But finally no news about the project is adapted from the legendary comic works of Hasmi.
Until finally, Wednesday, April 4 yesterday Joko Anwar was announced to direct film titled Gundala without the mention of Putera Petir who is the film to 7 directors who just succeeded in making film Pengabdi Setan with 4 million more Viewers and achieved award as best director.
Wicky V Olindo as producer of Screenplay Films explains if the project version of Hanung otherwise not be produced. Because during the development phase of the scenario, there is no match between Hanung with Bumilangit Studios who holds the rights of comic character Gundala.
While Bumilangit Studios discourse the adaptation of Gundala comics could become a locomotive the emergence of other original Indonesian heroes that their Intellectual Property (IP) have. "For a long time Bumilangit met and exchanged his vision of the best approach for the movie Gundala figure, because this Gundala will be the first project of many IP (Intellectual Property) owned by Bumilangit.In the perspective of Bumilangit, Gundala must be a locomotive. the others will not succeed. "In the search process there are a lot of cinematographers and producers who are interested, even had the chance to announce one of the director (Hanung)," said Wicky.
Imansyah Lubis as the party Bumilangit Studios also assert if they will not stop at Gundala. Many other hero characters are ready to appear even though they are still closely guarded by the confidentiality of the chosen champion names. "Wait the game date, this Gundala will be the first IP of Bumilangit filmed," said Imansyah.
Meanwhile, Joko Anwar said the film is still pre-production stage, so he has not been able to say who will be the actor Gundala cast. "I have not been able to say who will be the main actor. He must have character and build a good body, "He said puzzled.
From the side of the story both Joko and the producers are still reluctant to tell more about the storyline, but certainly this movie will be more current and will have many local content.
Gundala itself is a native Indonesian superhero comics published in 1969 and previously been appointed and adapted to the big screen in 1981 with director Lilik Sudjio. (AMZ)