This afternoon, the Composite Stock Price Index Closhed Stronger to Position 6.286
By : Abraham Sihombing And Aldo Bella Putra | Monday, April 16 2018 - 19:30 IWST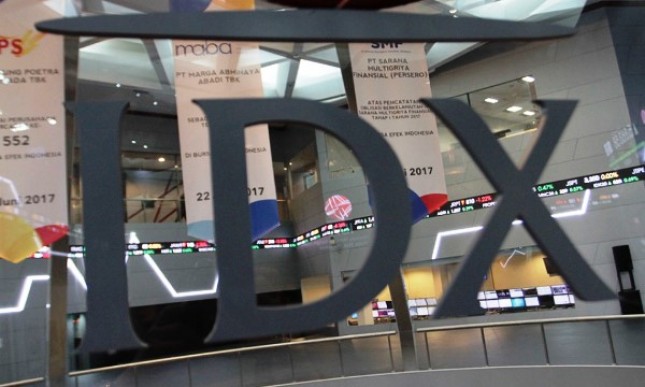 Bursa Efek Indonesia (Foto Rizki Meirino)
INDUSTRY.co.id - Jakarta - Jakarta Composite Index (IDX) closed up 0.26% or 16 points to 6,286 positions on Monday (16/04/2018) compared to last week's position at 6,270.
The strengthening of the JCI is supported by the 187 price increase, especially the consumer sector stocks. In addition, there were 195 stocks down, 128 stocks stagnant and 110 shares not transacted at all. JCI is moving in the range of 6,262-6,305 today.
Total trading value across all BEI market segments reached Rp4.99 trillion. It consists of trading value in the Regular Market of Rp 4.32 trillion, in the Negotiated Market worth Rp670.62 billion and in the Cash Market of Rp1.76 million.
Total volume of transactions recorded as much as 67.11 million lots of shares, the result of 336,242 times the transaction. Foreign investors posted net sales of Rp551.16 billion with net sales of 944,181 lots of shares.
As many as five of the nine indexes of BEI index rose. The index of consumer sector experienced the highest increase, ie by 0.97% or 25.33 points to 2,634 positions. This was followed by indices of various industry sectors and indexes of infrastructure sectors, each up 0.91% and 0.32%.
LQ45 stocks that experienced price increases and became top gainers were AKRA whose price rose 3.57% or Rp200 to Rp5,800 per unit, UNVR whose price was raised 2.64% or Rp1,325 to Rp51,525 per unit and HMSP whose price increased by 1.99% or Rp80 to Rp4,090 per unit.
LQ45 stocks that become toll losers are INTP whose price is decreased 4.11% or Rp775 to Rp18.100 per unit, WSKT whose price is eroded 3.21% or Rp80 to Rp2.410 per unit of an INDY whose price is shrinking 2.88 % or Rp110 to Rp3,710 per unit. (Abraham Sihombing)