Blitar Harvest Chili 4000 Ha, Ready to Secure Supply
By : Wiyanto Dan Aldo Bella Putra | Wednesday, April 18 2018 - 19:00 IWST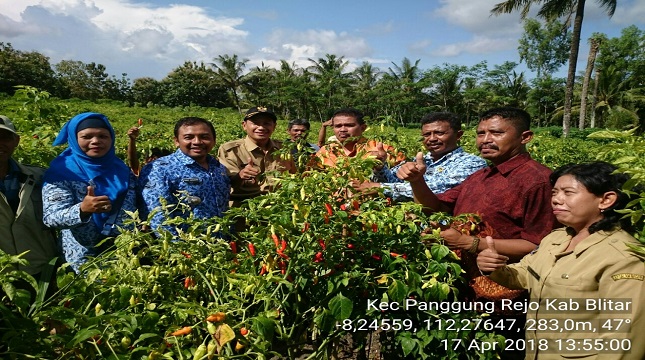 Panen cabai di Blitar
INDUSTRY.co.id - Blitar - Minister of Agriculture Amran Sulaiman on several occasions said that the supply and price of basic commodities such as various chili must be safe and stable to welcome fasting and Idul Fitri 1439 H.
Following up the directive, Director General of Horticulture Dr. Suwandi, M.Si together with Upsus Chili Bawang Team visited the field to ensure the readiness of crops to be harvested in May-June 2018.
On a visit to Blitar as one of the buffer districts of various National Chili, as well as suppliers to the market of Surabaya and Jakarta area.
On the occasion of harvest of Raya Rawit Merah Chilli in Panggungrejo Village, Panggungrejo Subdistrict, Suwandi seemed to smile and enjoy the vast expanse of various chilies. In one village this harvest is currently 700 hectares, not to mention in the District Binangun and Wates reach 4000 hectares.
"This is an amazing planting of chili in this location, three sub-districts full of pepper plants" he said.
Suwandi added chilli center in East Java spread in Kediri, Blitar, Banyuwangi and Tuban. While the big chili in Kediri, Banyuwangi, Malang, Blitar, and Magetan.
The same thing was conveyed by the Head of Blitar District Agriculture Office, Eko Priyo Utomo that the availability of various chili in Kediri in March, April, May to June and before fasting is safely under control. The harvested area of ​​March to June is about 7,000 hectares spread in Panggungrejo District 2,800 hectares, Wates 1,482 hectares, and Binangun 2,900 hectares.
"Currently harvest in these three districts and is ready to secure the availability and supply of East Java and the national buffer" said Eko
According to Sarwi Champion Cabai Blitar Regency "the current harvest area in one village is Panggungrejo Panggungrejo 700 hectare and Tulungrejo Wates 575 hectare and Binangun 2,900 hectare". Blitar currently can supply to East Java and Jakarta 100 tons per day ", he said.
It was added that "the existing cropping is the management of the cropping pattern we have done 3-4 months earlier With harvesting conditions that are almost evenly distributed in each sub-district, the current price of farmers tends to decrease for various chilies as follows: Curly red chili Rp. 35,000 and red pepper Rp 18,000, "he explained
"With the conditions that have been close to the harvest and the existing supply at any time then our guided farmer group is ready to supply 30-35 tons per day" he explained
"We are sure, God willing, the availability of various chili before Idul fitri 1439 H is safe," he said, adding that the current cultivation is flourishing and it is estimated that the average productivity of Chili Rawit Merah can reach 7 tons per hectare "he concluded