Although There Are Two Presidential Candidates, Presidential Candidate Convention SOLUSI UI Continues Until August 2018
By : Herry Barus And Aldo Bella Putra | Friday, April 20 2018 - 16:30 IWST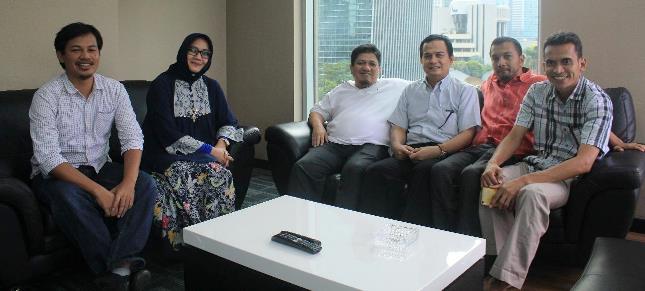 SOLUSI UI (Foto Dok Industry.co.id)
INDUSTRY.co.id - Jakarta - General Chairman of the Society of Muslim Society of Alumni University of Indonesia or SOLUSI UI (Solidaritas Muslim Alumni Universitas Indonesia) Sabrun Jamil affirmed that although Prabowo Subianto has declared itself to be one of the presidential candidates in the 2019 presidential election, the organization he leads will continue to continue the implementation of the 8th Presidential Candidacy of the Republic of Indonesia convention.
The reason, the political world is very dynamic. The changes are no longer months or years, but seconds. Gerja Prabowo Subianto, the Chairman of Gerinda Prabowo Subianto, completed the Presidential Decree which was declared by PDI Perjuangan, Joko Widodo.
"The registration of the Presidential Candidate and Vice Presidential Candidates will be opened in August 2018. Currently there is still plenty of time to weigh and prepare the best people to be the President or Vice President. All possibilities can happen in politics. Therefore SOLUSI UI will continue to encourage the best figures of UI alumni to become the President and Vice President. Therefore, the Presidential Convention SOLUSI UI will not stop us, although now there are 2 figures who have been declared to become the Presidential Candidate of the Republic of Indonesia period 2019-2024," said Chairman of SOLUSI UI Sabrun Jamil to the press on Friday (20/4 / 2018) in Jakarta.
After holding a limited discussion of SOLUSI UI on Convention 2019. Sabrun Jamil accompanied by Secretary General (Secretary General) SOLUSI UI Eman Sulaeman Nasim, vice chairman of UI SOLUSI UI Ahmad Ghufron, Suparlan technology management board and SOLUSI UI law RA Nyai shanti Dewi.
According to Sabrun Jamil, University of Indonesia has graduates that have been tested for quality and professionalism both at national and international level. They are former Coordinating Minister for Economic Affairs who is also the owner and founder of CT Corporation Prof. Dr. Chairul Tanjung, former Minister of Justice and Human Rights Prof. Dr. Yusril Ihza Mahendra SH, Vice Chairman of the House of Representatives Dr Fadli Zon, Vice Chairman of Parliament from PKS Fahri Hamzah, former vice minister PAN and Bureaucracy Reform who is also the Dean of the Faculty of Administrative Sciences (FIA) UI Prof. Dr. Eko Prasojo, Coordinating Minister for Human Development and Culture Puan Maharani, there is also Chairman ILUNI UI Arief Budhy Hardono.
"In addition, there is Chairman of Jakarta Governor's Victory Team who also initiated the" Replace President 2019 "Dr. Mardani Ali Sera, there is a cleric who is also Chairman of the DPP PKS Al Muzamil Yusuf. In addition there is a Muslim woman who has been diligent to defend the rights of Muslims Fahira Idris. They are all figures and professionals at the national level. They deserve the trust and responsibility to manage and bring this country to a better direction, "said Sabrun Jamil.
Furthermore, alumni of Faculty of Engineering University of Indonesia (FTUI) explained that UI alumni figures mentioned above such as Chairul Tanjung and Yusril Ihza Mahendra deserve to be nominated as President. There are also figures who deserve to be nominated as vice presidents such as Prof. Dr. Eko Prasojo, Fadli Zon, Fahri Hamzah, Fahira Idris or Coordinating Minister for Political and Security Affairs Puan Maharani. Puan Maharani alumni of FISIP UI Communication is very worthy to be juxtaposed as vice president paired with Joko Widodo. Meanwhile, the initiator of the 2015 Manti Change Movement, Mardani Ali Sera, due to his intelligence and courage is very fitting with Prabowo Subianto, which was announced by Gerindra, or paired with former TNI Commander General Gatot Nurmantio (if he later receives party support).
"They are all great people, experienced and highly qualified UI alumni. They deserve a chance. So the couple of Capres or Vice President not only on the same people. Give an opportunity also to UI alumni who have achievement and professionalism and mentality spirit, "said Sabrun Jamil.
Polling Presidential Election SOLUSI UI
In the same place, Secretary General SOLUSI UI Eman Sulaeman Nasim expressed. Originally the Presidential Convention SOLUSI UI will be held early April 2018 ago. However, many votes and opinions asking for the Convention to be postponed until mid-July 2018. Before the convention was held, most members of SOLUSI UI requested an online poll.
"Currently, the concept of online polling is being created by alumni from the Faculty of Engineering UI. Early May the possibility of polling can be spread to collect opinions and choices from UI alumni, "said Secretary General SOLUSI UI Eman Sulaeman Nasim.
Furthermore, the founder of strategic communication consulting agency Indonesiachannel explained, with the polling of UI alumni who deserve to be the President or Vice President, giving the opportunity to all UI alumni across Indonesia and around the world to determine who deserves to lead the country for 5 years ahead . It also provides an opportunity as well as encourage UI alumni who qualified, professional and integrity to become leaders and managers of this country.
"In addition to the names of UI alumni who are eligible to be selected, we will also provide a column of any requirements that must be had to be the President, Vice President and his ministers. Later all we present in the poll. And of course, UI alumni who will determine, who are the names of eligible figures and what criteria should be owned by presidential and vice presidential candidates, "said Eman Sulaeman Nasim.
Furthermore, UI Vocational Lecturer explains, who is the name of UI alumni who received the most support and criteria or requirements of what should be owned by the Candidate of President and Vice President candidate according to UI alumni, will be presented in the convention of Capres in July and the event that will be held before the Presidential Convention.
"We want to make a breakthrough. The election of President and Vice President is not only a party party political party. Not only determined by the chairmen and officials of Political Parties. The people should also be given the opportunity to determine who should be nominated to be the President, Vice President and his ministers in the future. Because they all will lead the people and be financed by the people. So it is appropriate, the people as taxpayers like us and the alumni of college as well as alumni of other schools participate determine who should be nominated candidate to the Presidential Candidate. So the people in choosing the candidate leader, do not buy a cat in a sack. But from the beginning already know his track record, "said this communications practitioner.
The existence of the convention Capres SOLUSI UI will also facilitate the leaders of Political Parties to determine who should be promoted and registered as Capres and Vice President in August 2018. Because, the level of elektabilitas and track record is clear.
"In the convention and poll of Presidential SOLUSI UI, we will still give opportunity to UI alumni to choose Candidate and Vice President from outside UI. So UI alumni have the choice to choose who should be the President and Vice President. Although the direction and goal we still want to encourage UI alumni to assume greater responsibility in building this nation and state, "said senior lecturer STIAMI Institute in