Jakarta - Coordinating Minister for the Ministry of Marine Affairs Luhut Binsar Pandjaitan paid a working visit to the European Union to discuss the discrimination of palm oil derivatives products in
By : Hariyanto And Aldo Bella Putra | Tuesday, April 24 2018 - 18:00 IWST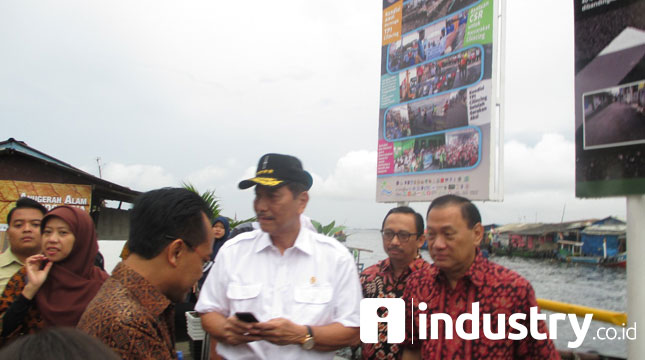 Menteri Koordinator Bidang Kemaritiman Luhut Binsar Pandjaitan (Foto: Kormen Barus/Industry/co.id)
INDUSTRY.co.id - Jakarta - Coordinating Minister for the Ministry of Marine Affairs Luhut Binsar Pandjaitan paid a working visit to the European Union to discuss the discrimination of palm oil derivatives products in the region.
In a written statement received in Jakarta, Tuesday (24/3/2018) Luhut stressed Indonesia wants to build a partnership dialogue in the face of oil palm issues.
"We do not come to beg, to be dictated, but to dialogue with partners we are in an equal position, we want to build a partnership, we are not a poor country, we are rich country with a lot of experience," he said.
In a series of working visits, Luhut held a meeting with European Trade Commissioner Cecilia Malmstrm in Brussels, Belgium on Monday (23/4/2018), to discuss a number of issues, including oil palm, environmental issues, and trade.
The negotiations with the EU related to the issue of palm oil derivative products were carried out in its role as Chairman of the RI Negotiation Team for the negotiations on restrictions on the use of palm oil derivative products in the European Union.
The former Coordinating Minister for Political, Political and Security Affairs, also explained that oil palm can reduce poverty to 10 million people based on research from Stamford University.
In Indonesia, 51 percent of oil palm is controlled by farmers, where more than 16 million people depend on the sector.
"Almost all of the palm oil from Indonesia has been certified internationally, and in terms of health we have done research and also asked independent consultant on the impact of palm on health, there is nothing wrong with the palm," he said.
He stressed the odd discrimination given by the EU parliament on palm oil.
Luhut to Commissioner Malmstrom expressed Indonesia's commitment to accelerate the process of the Indonesia-European Union Comprehensive Economic Partnership Agreement (I-EU CEPA) whose negotiations are still ongoing as Indonesian products exported to the EU are not just palm oil.
Just as he hoped, Commissioner Malmstrom hoped that the decision would eventually satisfy all the pihalks.
"To the Commissioner Malmstrom, I say oil palms help improve the lives of farmers in other developing countries, not just in Indonesia," he said.
Furthermore, Luhut said Indonesia is not planning to take retaliatory action against such discrimination.
"I came for the assurance of the fate of the oil palm grower, his family and the people who depend on this business, which exceeds 16 million people, and there is no plan for us to take retaliatory measures," he said.
He is optimistic that the EU will give further consideration on the matter.
Luhut also invited EU Parliament members to visit Indonesia in order to see firsthand the condition of the country that has developed. The issue of human rights asserted is the past.
"I think there may be some members of parliament who think that Indonesia's situation is still far behind, still has human rights issues, Indonesia is very open We have had problems with human rights but now it has changed Our human rights situation is not far from what you have in the EU. Even for freedom of speech, in our country more freely," he said.