Pampering Customers, AXA Financial Launches Maestro Prestige Link Service
By : Chodijah Febriyani And Aldo Bella Putra | Friday, April 27 2018 - 15:00 IWST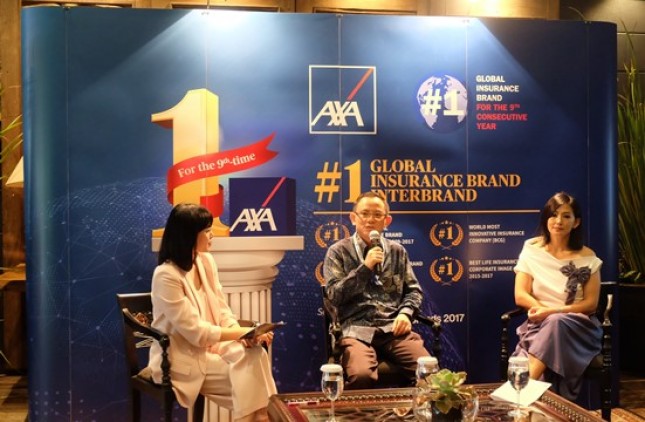 AXA Financial Luncurkan Layanan Maestro Prestige Link (Foto Dok Industry.co.id)
INDUSTRY.co.id - Jakarta - Unitlink insurance product with the first single premium has been launched by AXA Financial Indonesia is designed to serve customers with the needs of development of investment funds as well as optimal self-protection until the age of 100 years.
This product was launched to answer the needs of diversification of wealth assets for the upper middle market (affluent market). Indonesia is supported by the rapid growth of the middle class and affluent.
Each year, more than 5 million individuals enter the middle class and are predicted to grow from 45 million in 2010 to 135 million individuals by 2030. There are currently at least 111,000 high net worth individuals in Indonesia requiring financial planning solutions to develop their funds.
The high cost of education, the necessities of life, emergency funding and retirement costs encourage this group of customers to prepare early for future planning, and to seek innovative financial planning solutions that can drive asset growth, as well as deliver optimal investment returns.
On the one hand, the life insurance industry continues to grow positively every year. This year, the life insurance industry is predicted to pocket the total premium of Rp 193.19 trillion or grow 16.2% from Rp 166.25 trillion the previous year.
"With the increasing public awareness of the importance of insurance, AXA Financial Indonesia sees the need for insurance products that can develop investment funds optimally and long term. Therefore, to answer the needs of this segment, today proudly AXA Financial Indonesia introduced its newest product "Maestro Prestige Link" is the first single premium unitlink insurance product from AFI," said Vincentius Wilianto, Director of AXA Financial Indonesia through a press release received by Industry.co.id.
Maestro Prestige Link is a financial planning solution for customers who want to develop funds optimally. Customers are free to choose investment funds according to risk profile and 100 percent of the total premium will be invested in the beginning so as to provide maximum results for customers.
This product is also equipped with life protection facilities lifetime until the age of 100 years with the option of additional insurance in the form of benefits of death and death due to accidents.
The main advantages of the Maestro Prestige Link is a one-time premium payment, a minimum of Rp 50 million or USD 5,000, a loyalty bonus of 1% of the average investment value over the last 60 months and will be awarded as an addition to the Unit on Investment Value, every 5 years Active policy, age up to 80 years without medical check-up, monthly administration fee and transfer of funds up to 4 times a year.
Then, flexible, can make additional Investment Fund (Top Up At Once), Withdrawal and Switching (Switching) anytime. Other benefits offered by this product in the form of protection without the necessary medical check-up for Sum Insured up to Rp 500 million, loyalty bonus in the form of additional Unit into Investment Fund every 5 years policy and multiplier, free of monthly administration fee and transfer of funds up to 4 times in a year, as well as the option of Additional Insurance for life protection.
"As a leading life insurance and asset management company, we are constantly innovating and transforming to complement ourselves with innovative products that are appropriate to the needs of the people of Indonesia In the future AXA Financial Indonesia will also provide offshore investment options to provide choice with attractive returns," concluded Vincentius.