LOVEPINK Again Hold Goes Pink Indonesia 2018
By : Dina Astria And Aldo Bella Putra | Friday, April 27 2018 - 16:30 IWST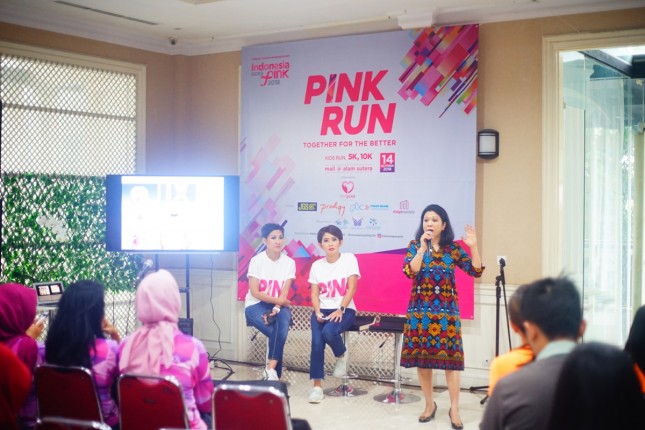 LOVEPINK kembali menggelar Indonesia Goes Pink (IGP) 2018
INDUSTRY.co.id - Jakarta - As a continuation of LOVEPINK's commitment in voicing a breast cancer conscious campaign, LOVEPINK today announced it will hold its annual event, Indonesia Goes Pink (IGP) 2018, which will take place at Mall @Alam Sutera, Tangerang on October 14, 2018.
IGP is an annual event carried by LOVEPINK every October which is a conscious month of breast cancer worldwide, as a container to build public awareness for early detection through Breast Self-Examination (SADARI) and Clinical Breast Examination (SADANIS). The 2018 IGP series of events comprise Pink Run 10K, 5K, and new activities, Pink Run for Kids (about 2K) and Pink Walk for warriors and survivors, and family and friends who want to support their struggle to get rid of breast cancer.
If previously breast cancer is the number one cause of death in women aged 40-55 years, now breast cancer has a movement toward young patients in their 30s. (based on portrait of breast cancer patient in Jakarta obtained from LOVEPINK survey result 2017). Not only women, breast cancer can also attack men. Breast cancer is currently unavoidable, but can only be detected early with BSE and SADANIS to increase the chances of recovery from the disease.
Madelina Mutia, co-founder of LOVEPINK said, "Based on the data, the age of our members is getting younger in the last few years, it indicates breast cancer is no longer a disease for mature women; coupled with the various challenges faced in the treatment of patients, it is pointed out that Indonesia is in an emergency breast cancer. "
To intensify the awareness of early detection, this year's IGP targets men's participation to provide support to women and especially young people for the BSE and SADANIS routines to be formed early on. Muti explained, "With the movement of breast cancer patients to a younger age, we need the support of men and young people to continue to disseminate SADARI and SADANIS messages to women. Support from husbands, relatives, friends and children are very important to change the attitude of Indonesian women who are still afraid or reluctant to conduct regular checks. "
Fertina Tarasari, IGP Pink Run Chairman, said, "Last year's IGP activities in Bali received a high level of enthusiasm. We accept registration from overseas participants. This year, we again held the Pink Run and Fun Walk activities as well as the new Pink Run for Kids activities to deliver healthy living messages and keep fighting to the finish line regardless of age. We hope the involvement of children in this event also at the same time encourage the warriors and survivors. The mother figure is a 'hero' in the eyes of the child, and for the sake of the child is a mother ready to rise to fight against her illness to take over her life. "
Pink Run registration fee is Rp 200,000 for Kids Run, Rp 300,000 for 5K and Rp 350,000 for 10K. For Event and registration information can be done through www.indonesiagoespink.com which has been open since 28 April 2018 until 15 September 2018 for registration until 31 May 2018, will be given special price (early bird) that is Rp 175.000 for Kids Run, Rp 275,000 for 5K and Rp 325,000 for 10K while the registration fee for Fun Walk participants is Rp 50,000.
Ch. Rossie Andriani, Marketing Planning & Development Division Head of PT Alfa Goldland Realty said, "One of PT Alam Sutera Realty Tbk's vision is to always contribute in improving human life especially providing space to support activities related to public health. Alam Sutera always supports activities related to healthy living, one of which Indonesia Goes Pink 2018 which besides having health aspect also have social aspect. This running activity aims to provide support to women with breast cancer. This event is also a 4th run event as a form of awareness of Alam Sutera to the community especially for cancer. Alam Sutera invites the community to contribute to a healthier life, to share and to give warmth and happiness to those in need ".