Coming to Ramadan, Staple Food Prices in Pasuruan Is Stable
By : Wiyanto Dan Aldo Bella Putra | Friday, April 27 2018 - 17:00 IWST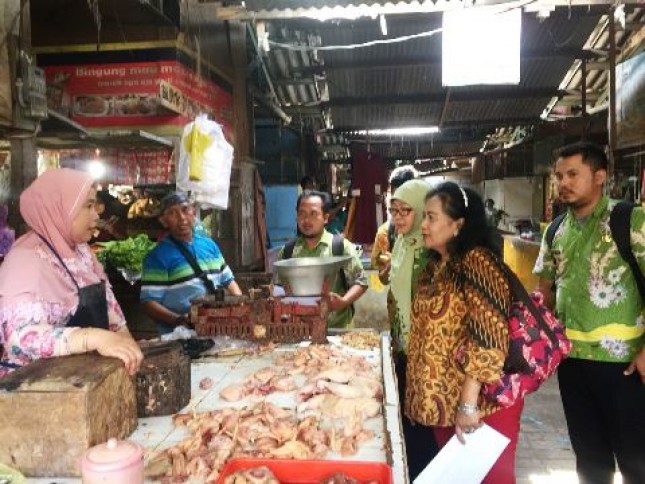 Jelang Ramadhan, Harga Pangan Pokok di Pasuruan Stabil (Foto Dok Industry.co.id)
INDUSTRY.co.id - Pasuruan, - The price of staple food such as rice, large red pepper, cayenne pepper, chicken meat and sugar at this time until the month of Ramadan in Pasuruan regency is stable and even stable.
This is based on the monitoring of Data Center Price and Information System of the Ministry of Agriculture (Pusdatin Kementan) along with the Livestock and Food Security Agency of Pasuruan on Thursday (26/4/2018).
According to the Head of the Pusdatin Price Monitoring Team, Metha Herwulan Ningrum, from the results of direct monitoring and field officer data of the Livestock and Food Security Agency of Pasuruan, recorded rice prices, large red peppers and cayenne pepper at the retail level declined. The price of medium rice is currently only Rp 8,800 per kg, while 2 months ago reached Rp 9,000 per kg.
"So even the price of the big red chili is currently Rp 32,000 per kg, a week ago Rp 48,000 per kg. Estimates in Ramadan of Rp 40,000 to Rp 45,000 per kg. Cayenne pepper is now down, from farmers Rp 15,000 per kg, in the market reached Rp 20,000 per kg," said Metha when reviewing the price of staple food in Bangil Market, Pasuruan.
For the price of sugar at this time was still stable at Rp 11,500 per kg. The increase in Ramadhan month later predicted Rp 2,000 per kg.
"In addition, the price of chicken meat today compared to last month is still stable. The price is Rp 32,000 per kg. In the month of Ramadan it is predicted that the price will be Rp 35,000 to Rp 38,000 per kg. Pasokanya current smoothly until Lebaran," said Metha.
One owner of a rice shop in Bangil Market, Pasuruan, Mrs. Wiwin said the current rice sales volume has increased by 50 percent. This is because in Pasuruan harvest and the production are quite high, so the current price of rice decreased compared to 2 months ago.
"The price of rice last 2 months high, such as Rojo Lele rice Rp 11,000, but if it is now down Rp 10,800 per kg. Dropped due to the many harvest and nice weather. Medium rice also fell, if 2 months ago Rp 9,000 per kg, but now Rp 8,800 per kg. So, want this Ramadan alhamdulillah price down," she said.
"This price must be stable until Lebaran because of the Polres also diligently every week down the price and stock check that we sell," she continued.
Meanwhile, Section Head of the Availability of Food Insecurity and Redistribution, Tri Pujiastuti explained that the supply and stability of food price ahead of Ramadhan is due to the ongoing harvest, also because of the routine monitoring conducted by Pasuruan local government in all traditional markets and stock in milling. Monitoring is done daily with Trade Office.
"This is what makes until now there is no price spike, especially rice. In the month of Ramadan until Idul Fitri will be stable, if it rises, not high, still at a reasonable price" she said.