Peran Kementerian Pertanian Dalam Penanganan Stunting
By : Wiyanto Dan Aldo Bella Putra | Wednesday, July 04 2018 - 22:00 IWST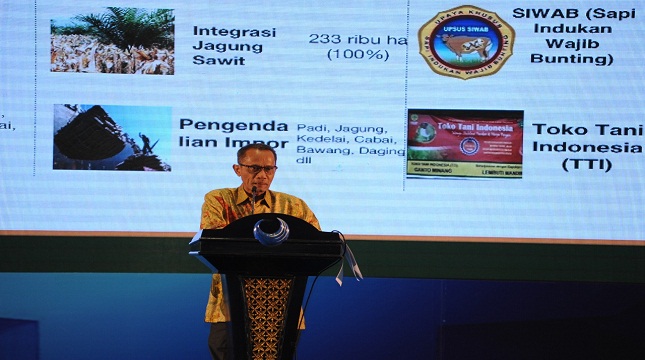 Kepala Badan Ketahanan Pangan Kementerian Pertanian, Agung Hendriadi
INDUSTRY.co.id - Jakarta - Based on Basic Health Research Data of 2013, about 37.2% of toddlers in Indonesia suffer from stunting. This not only happens to the lower economic class, also on the upper economic class, although the percentage of lower economic class is greater.
This was stated by the Head of the Food Security Agency of the Ministry of Agriculture, Agung Hendriadi who represented the Minister of Agriculture in the National Food and Nutrition Foods (WNPG) XI Workshop in Jakarta.
According to Agung Hendriadi, the incidence of stunting is not due to economic factors alone, is also influenced by other factors. There are three groups of causes of stunting: (1) Basic causes (social, economic and political conditions, access of households to educational facilities, jobs and financial institutions); (2) Underlying causes (household food insecurity, unhealthy household environments, and lack of health services); and (3) Immediate causes (lack of food intake and disease).
"The role of the Ministry of Agriculture in the handling of stunting is focused on basic causes and underlying causes." Through the policy breakthrough to realize food sovereignty and the welfare of farmers, the Ministry of Agriculture has succeeded in realizing self-sufficiency in various commodities, "said Agung.
Agung also explained that handling stunting requires efforts to accelerate the diversification of food consumption, one of which must be supported by adequate access to diversity.
To improve it, the Ministry of Agriculture develops the Poverty Welfare Surgery program known as the "Work" program. This program is implemented to increase community access to diverse food through the development of yard land for vegetable production; home farming business; horticultural and annual crops; and group farming institutions.
"Through this program, poor households are increased their capacity to manage businesses that can increase their income," said Agung.
Kementan programs include the program of Sustainable Food House (KRPL), Food Self-Establishment Area (KMP), and Lumbung Pangan Masyarakat (LPM). KRPL aims to optimize the use of the yard as a source of food and family nutrition and income in a sustainable manner.
KRPL empowers other women / community groups with target groups in 2018 of 2,300 groups. KRPL activities include: (1) nursery seedlings of demonstration plots; (2) Development of yard area; (3) the development of school gardens; and (4) Processing of yard result (B2SA Menu).
KRPL can reduce food expenses by Rp 750 thousand - 1.5 million per month, support local food-based food diversification, increase family resilience and food self-sufficiency, conserve local genetic resources (more than 300 commodities), and reduce carbon footprint and emissions by target a 29% decline by 2030.
Ministry of Agriculture through BKP also implement the program of Food Self-Establishment Area (KMP). The components of KMP activities include institutional strengthening, community empowerment and cross-sectoral support optimization. By 2018, KMP activities are implemented in 20 districts and are targeted to be implemented in 60 districts by 2019.
Community Food Barns (LPM) aims to develop community food reserves. The target of LPM activities is the granary that has been built in food insecurity areas where in 2019 it is targeted that the number of LPM will reach 1,315 units.
The event was briefed by the Vice President, and opened by the PMK Coordinating Minister. The other participants are the Minister of PPN / Bappenas, the Minister of Health, the Minister of Research and Technology Dikti, the Head of LIPI, the Head of BKP Kementan, representatives of the University throughout Indonesia, practitioners and private, regional heads and representatives of international organizations.