First Quarter of 2018, WOM Finance's Net Profit Increases Significantly to Rp55 Billion
By : Abraham Sihombing And Aldo Bella Putra | Monday, April 30 2018 - 13:30 IWST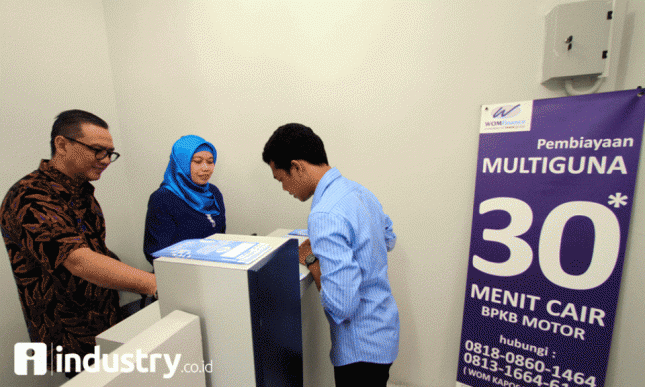 Wom Finance ( dok INDUSTRY.co.id)
INDUSTRY.co.id - Jakarta - PT Wahana Ottomitra Multiartha Tbk (WOMF), or WOM Finance, an Indonesia Stock Exchange (BEI) issuer in the automotive finance business, posted a net profit of Rp55 billion in the first quarter of 2018, up significantly by 98% compared to the same period in 2017 amounting to Rp28 billion.
"The significant net profit growth was underpinned by a significant increase in financing disbursement by 53% to Rp1, 80 trillion as of March 2018 compared to the same period of 2017 of Rp1.20 trillion," said Zacharia Susantadiredja Director of WOM Finance, in Jakarta, Monday / 04/2018).
Zoomaria said that compared to the first quarter of 2017, WOM Finance's financing composition is motorcycle financing which grew 37 percent, used motorcycle grew 19 percent, Multiguna Jasa MotorKu increased by 41 percent and Multiguna Jasa MobilKu surged 128 percent.
"Multiguna Jasa (MotorKu and MobilKu) has a substantial contribution, amounting to 46% of total financing in the unit," Zacharia added.
Zacharia said the company in the first quarter of this year managed to distribute new motorcycle financing of 127,000 units, or 39% higher than the same period in 2017.
Meanwhile, WOM Finance's total assets increased 30% to Rp8.10 trillion in the first quarter of 2018 compared to the same period in 2017 of Rp6.30 trillion. Total liabilities also rose 31% to Rp7.10 trillion from Rp5.50 trillion in Trw-I 2017. Total Equity reached more than Rp1 trillion in January-March 2018 or grew 24%.
The Return of Equity (ROE) of the company as of March 2018 rose to 21% from 13% as of March 2017. While Return of Assets (ROA) increased to 4% compared to 2% in the first quarter of 2017 and Non-Performing Financing (NPF) 2.96% as of March 2017 to 2.17% as of March 2018.
The Company has also implemented several strategies to improve service quality and support its business growth. The Company adds and enhances the status of its network offices to facilitate consumers in accessing the Company's services.
Total office network of the Company as of March 2018 reached 188 Office network consisting of 110 Branch Offices and 78 Offices Other than Branch Offices. In terms of Operational and Information Technology (IT), the company continues to strengthen the fundamentals and IT infrastructure by upgrading the IT Core System currently underway.
Meanwhile, Djaja Suryanto Sutandar, President Director of WOM Finance, said the company's outstanding performance in the first quarter of 2018 is a manifestation of the company's management capability to execute well-defined business strategies.
"The management of the company managed to increase growth by maintaining the quality of financing. Going forward, the move will continue to be maintained and we will continue to innovate to provide the best products and services to the community. Therefore, we are optimistic to achieve better company performance, "concluded Djaja. (Abraham Sihombing)