Minister of Agriculture Amran Appreciation of Alsintan Optimization in Purbalingga
By : Dina Astria And Aldo Bella Putra | Wednesday, May 09 2018 - 23:30 IWST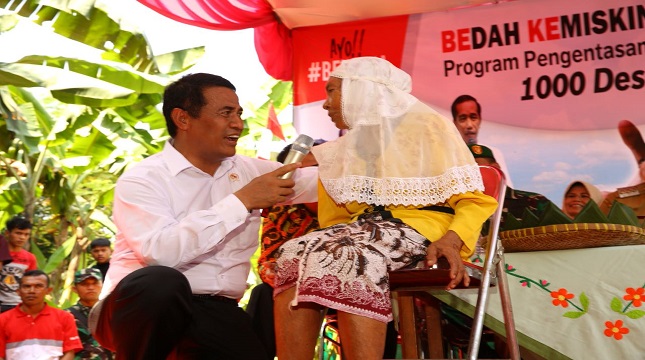 Menteri Pertanian, Andi Amran Sulaiman, meluncurkan Program Bedah Kemiskinan Rakyat Bekerja (BEKERJA) di Desa Sangkanayu, Kecamatan Mrebet, Purbalingga, Jawa Tengah.
INDUSTRY.co.id - Purbalingga - Minister of Agriculture Andi Amran Sulaiman expressed his appreciation to the Government of Purbalingga Regency, Central Java, which has optimized the use of agricultural equipment and machinery (alsintan) of government assistance.
"We are grateful to Mr. Dandim, Mr. Danrem, Head of Department of Agriculture (Dinas Pertanian), and all related parties," he said to the media crew after reviewing the optimization of alsintan in Kembangan Village, Bukateja Subdistrict, Purbalingga, Tuesday (5/8/2018)
According to him, the optimization of alsintan in processing rice fields in Kembangan Village is a very good example.
Minister of Agriculture said that based on reports received, the use of four units of agricultural machineries can complete the processing of rice fields of 15 hectares each day.
"Therefore, we form a brigade: What is the purpose of the brigade? This is to facilitate control," Amran said.
In addition, he said, optimizing tools and agricultural machinery, ease of control, easy repair, low cost, and the results can be tripled.
He said usually that happens in Indonesia, farmer group that have alsintan will save the tractor after finished processing the land.
"This is not possible, so we form a brigade all over Indonesia No government aid is not in the form of brigades, because we calculate, that is the processing of the land with the capacity of the tractor which has been assisted by approximately 250,000-300,000 units, hectares per day, "he said.
Amran said if the ability of 50 thousand hectares per day, it means 1.5 million hectares per month so it is more than the need for rice, corn, and so on.
"Our needs per month are more than enough, so that's the size," said Minister of Agriculture.
According to him, the cost of using alsintan is cheaper and efficient and saves up to 40 percent of the budget.
In addition, he said, planting more quickly so that who usually plant once a year can be twice, whereas the two times in a year can be three times.
"There are so many benefits, so one time measuring, one way, once a program, but a lot of impacts." The tip is the welfare of farmers, "he said.