JCI Closes 29.20 Points at Friday
By : Herry Barus And Aldo Bella Putra | Friday, May 25 2018 - 19:10 IWST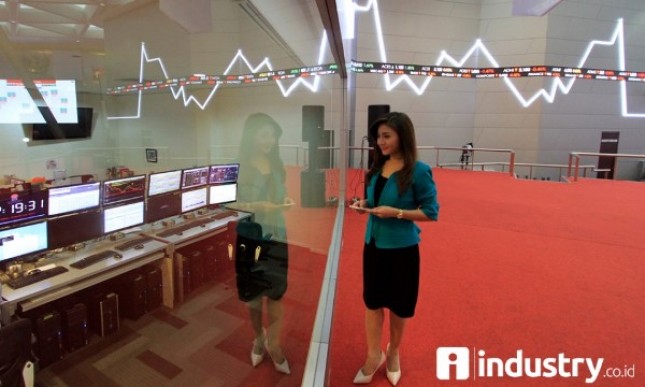 Pengunjung mengamati papan elektronik yang memperlihatkan pergerakan IHSG di gedung BEI (Foto Rizki Meirino)
INDUSTRY.co.id - Jakarta - The Jakarta Composite Stock Price Index (IDX) on Friday, closed higher by 29.20 points in line with recovering market conditions.
IHSG IDX closed up 29.20 points or 0.49 percent to 5,975.74, while the group of 45 leading stocks or LQ45 index moved up 4.51 points (0.47 percent) to 958.38.
President Director of Mandiri Sekuritas, Silvano Rumantir in Jakarta, Friday (05/25/2018) said that the increase in JCI in recent days shows the stock market trend that began to enter the area of ​​strengthening.
"The increase in JCI today (25/5) shows the recovery of the market began to be seen," he said.
He added that foreign investors responded positively to the policies submitted by Bank Indonesia pro market.
"The signal given by BI is very pro market, there is a possibility of BI doing 'adjustment' interest rate if necessary," he said.
On the other hand, he added, the external sentiment regarding the cancellation of US President Donald Trump's meeting with Korea Utama over the nuclear talks prompted the stock market in the United States to be contained. However, emerging markets are strengthening.
"The US stock market is stuck so the 'emerging market' gets a good deal, it's a factor that cannot be ignored," he said.
Meanwhile, it was recorded that trading frequency was 405,482 transactions with the number of shares traded at 7.029 billion shares worth Rp7.341 trillion. A total of 178 stocks rose, 196 stocks declined, and 119 shares did not move in value or stagnate.
Regional exchanges, among them the Nikkei index rose 13.77 points (0.06 percent) to 22,450.78, the Hang Seng Index fell 172.37 points (0.56 percent) to 30,588.03, and the Straits Times weakened 15.69 points (0.44 percent) to a position of 3,513.23.