REI Invites President Jokowi to Open FIABCI 2018 Meeting in Bali
By : Hariyanto And Aldi Firhand. A | Tuesday, June 05 2018 - 22:06 IWST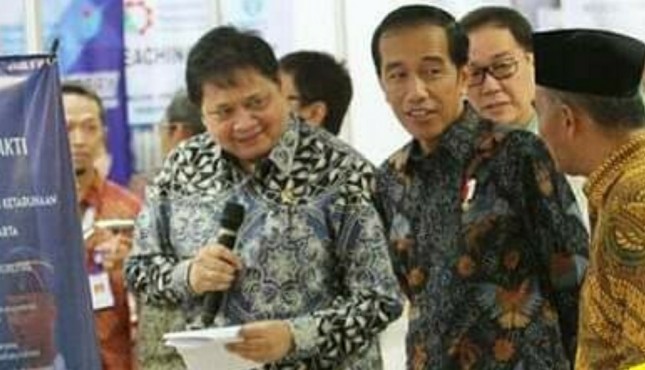 Jokowi dan airlangga (dok INDUSTRY.co.id)
INDUSTRY.co.id - Jakarta - Chairman of the Board of Directors of the Center of Real Estate Company of Indonesia (DPP REI), Soelaeman Soemawinata has officially invited President Joko Widodo in order to open a meeting in the international arena of the World Federation Real Estate Federation or FIABCI 2018 in Bali on December 7-10, 2018.
"We have two interesting themes that are 'Affordable Housing' and 'Sustainable Tourism Development', two central issues that are emerging in the world, especially third countries and also the government priorities under the leadership of President Joko Widodo and Vice President Jusuf Kalla, Soelaeman who also served as President of FIABCI Asia Pacific in Jakarta, Monday (4/6/2018) after the breaking event with journalists.
Soelaeman said the 69th FIABCI World Congress held in Dubai, United Arab Emirates from 28 April to 1 May 2018 officially decides Indonesia as the host of FIABCI December Meeting and Global Business Summit 2018. A world-class business event expected to be attended by around 1,500 participants this will take place in Bali, from 7-10 December 2018.
Soelaeman Soemawinata revealed FIABCI December Meeting and Global Business Summit is a special event held every December and usually only held in continental Europe for 68 years.
"And this year is amazing for the first time to be held in the Asia Pacific region, and that in Bali Indonesia, there will be many activities, and coincidentally will be held simultaneously with REI Rakernas," said Soelaeman.
He believes the event will be very meaningful for Indonesia which is striving to provide affordable affordable housing for low income people through the Million Houses Program, and encourage the development of tourism sector targeted to be the largest contributor of foreign exchange after the palm oil industry as well as the sector with the absorption of labor greatest.
Approximately 1,200-1,500 real estate and industry supporters are expected to attend the FIABCI December Meeting and Global Business Summit 2018, of which more than half are foreign investors from various countries.
"We certainly expect full support from the government, where we have submitted a letter to President Joko Widodo to welcome the event and also to coordinate with relevant ministers in the field of public housing, tourism and state secretariat," said Eman.
It is said, FIABCI Indonesia has been the last year in various forums FIABCI always talk and raise issues about people's homes. It has always been conveyed that Indonesia in three consecutive years succeeded in achieving the performance of providing people's houses with a target of one million units per year with the realization of more than 800 thousand units annually.
Of the 68 countries that joined FIABCI, Eman said, it is likely that Indonesia is the only country whose government makes the concept of low-cost housing by prioritizing the private sector. According to Eman, many countries in the world today ask themselves describe how the rule model of affordable housing supply in Indonesia.
"For example, I got a lot of requests to deliver this affordable residential topic in Hawaii and Taiwan, and they want to learn more about the model that has been running in Indonesia and hope to implement it in their country so now REI or FIABCI Indonesia play an active role in the scent of Indonesia in the international arena. This is in line with the commitment of REI as the front guard to build people's houses, "said Eman.
This role can be done because REI is a national property company association that has a wide networking in the world with 68 countries, 120 real estate associations of the world and connected with the UN and World Bank. That, says Eman, makes REI strong enough to support all government programs in the field of public housing, and certainly play a role in advancing the national real estate industry.
Scheduled Opened by President
In order to succeed the world-class grand event, REI has coordinated with several related agencies such as meeting with Minister of Public Works and Housing (PUPR) Basuki Hadimuljono, then meeting Minister of State Secretary Pratikno and Tourism Minister Arief Yahya. Even the last REI was given the opportunity to meet and report directly the FIABCI December Meeting and Global Business Summit 2018 to President Joko Widodo (Jokowi).
"To the President we convey that the name of Indonesia is currently flying on the international property scene as a country that can develop affordable housing (affordable housing) with private involvement and with a relatively short time," said Eman who attended the State Palace accompanied by Secretary General DPP REI Totok Lusida and a number of other DPP REI board members.
Totok revealed that in the meeting, besides asking some questions related to property issues, the president also expressed his gratitude and enthusiasm towards REI which has been supporting the government in providing housing for low income people (MBR).
During the meeting, President Jokowi even thanked THR for three times as a pure private supporter of the Million Houses Program. Among others, REI is considered to have mobilized the construction of houses for the State Civil Apparatus (ASN) by establishing cooperation with Korpri, as well as financing cooperation with PT Taspen and PT Jamkrindo which has now been followed up by Bappenas.
According to Totok, during the meeting for about an hour, President Jokowi also expressed his willingness to open and become the keynote speaker of FIABCI December Meeting and Global Business Summit 2018 in Bali on December 8, 2018. While the REI 2018 National Working Meeting held on December 7, will be opened by Minister of PUPR Basuki Hadimuljono.
"The President will then deliver about the Million House Program and affordable occupancy for MBR in Indonesia by involving the private sector, which is expected to become a world model," said Toto. (ant)