Telkom Ready to Support Indonesian Police to Maintain Smooth Flow Mudik and Behind Lebaran Indonesian Society
By : Wiyanto Dan Aldo Bella Putra | Monday, June 11 2018 - 09:00 IWST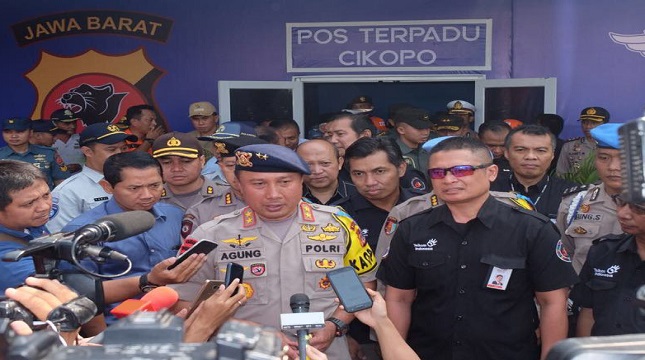 Kapolda Jawa Barat Irjen Pol Agung Budi Maryoto bersama dengan Direktur Enterprise Business Service Telkom Dian Rachmawan
INDUSTRY.co.id - Ahead of Eid al-Fitr Indonesia people have a unique tradition and culture of the nation that is Mudik or Pulang Kampung to stay in touch with parents, relatives in the hometown. This noble tradition of the nation becomes the motivation and strength for the Police of the Republic of Indonesia (Polri) and PT Telkom Indonesia Tbk (Telkom) and maybe even all elements of society to be able to support the smoothness.
The commitment to maintain the smoothness of Mudik tradition is clearly shown by the Police who are sincerely sincere when the community is close to the family; the officers keep on guard for the smooth flow of homecoming to the back flow later.
The spirit is reflected in the atmosphere of the visit of Police Chief General (Police) Tito Karnavian who was also accompanied by Director of Enterprise & Business Service Telkom Dian Rachmawan to Lebaran 2012 Main Mudik Post at Toll Gate Cikopo Cikampek West Java Sunday (10/6). Also attending the visit were Police Head of Police Security Maintenance, Komjen (Pol) Moechgiyarto, Police Chief Operations Assistant, Inspector General (Pol) Deden Juhara, Head of Public Relations Division of Polri, Inspector General Setyo Wasisto and Director General of Land Relations Ministry of Transportation Budi Setyadi , and Executive Vice President (EVP) Telkom's Government Service Division Mohammad Salsabil.
On the occasion, Dian Rachmawan asserted that Telkom is ready to support the Indonesian National Police to maintain the smooth flow of back and forth back and forth Lebaran Indonesian society. "It is our duty to support the National Police to provide comfort and security to the community especially when people celebrate Lebaran with relatives in their hometown," said Dian.
The form of Telkom support to the Police in maintaining the smooth flow of homecoming this time, among others, through the provision of data and internet communications networks, CCTV networks, video conferencing facilities and IndiHome services for posts mudik spread across several regions in Indonesia. Also of course the technical officer's readiness 7x24 hours to oversee all these services in order to also run smoothly supports the duties of Police.
Chief of Police Tito Karnavian on the same occasion gave appreciation to Telkom for its support to assist the Police in securing the flow of back and forth back and forth this time. "Police give appreciation to all parties including Telkom who has supported the Police effort to provide comfort and security to the community during the trip home to celebrate Eid with family.
We hope that the support we provide to the Police can be useful in providing the best service to the community so that Lebaran this time can be felt more meaningful, conducive and give coolness to this nation ", concluded Dian.