Get ready, 10 Ministers of State Finance Visit Banyuwangi
By : Ahmad Fadli Dan Aldo Bella Putra | Thursday, June 14 2018 - 14:00 IWST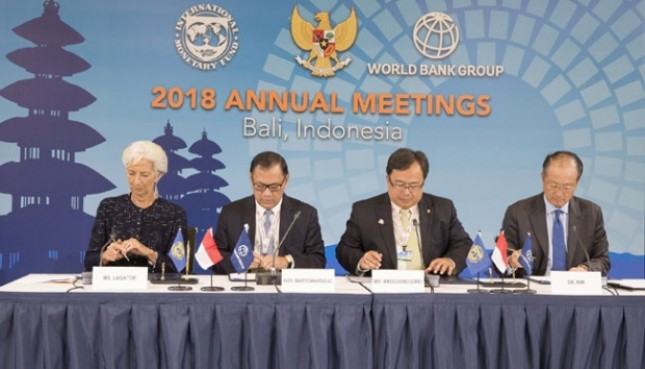 Pemerintah pusat telah menetapkan Bandara Banyuwangi menjadi penunjang untuk ajang Annual Meeting IMF-World Bank yang akan digelar di Bali pada Oktober 2018 mendatang.
INDUSTRY.co.id - Jakarta - Central government has set Banyuwangi Airport to be a supporter for the IMF-World Bank Annual Meeting which will be held in Bali in October 2018. It is planned that there will be delegations from 10 countries in the world that will land at Banyuwangi Airport.
It was revealed by CEO of Angkasa Pura (AP) II Mohamad Awaluddin during a meeting with Tourism Minister Arief Yahya and Banyuwangi Regent Abdullah Azwar Anas in Banyuwangi, Wednesday (13/6) as reported by KabarBisnis. AP II is the manager of Banyuwangi Airport.
"For the annual meeting of the IMF - World Bank, there will be 17 thousand delegates present. We have sorted, there are about 10 delegation countries that we plan to land in Banyuwangi, "said Awaluddin.
A number of supporting infrastructure development is acclaimed AP II welcomed the prestigious annual meeting of the world level. Starting from the extension and widening of the runway, the expansion of the apron, to the thickening of the runway.
Awaluddin then details the work being done, including the addition of runway works, from the original 2,250 meters to 2,500 meters. Runway is also in the process of widening to 45 meters. Thickness of runway is upgraded to PCN 56.
"The thickening of the runway is done by the end of June. Apron will also be added 23,000 m2, bringing the total to 41,000 rb m2, "said Awaluddin.
"All the work will be completed by early September, which means that the readiness for the IMF-World Bank meeting is secure, and with such infrastructure specifications, Banyuwangi can become an international airport," he added.
Banyuwangi Regent Abdullah Azwar Anas stated that the local government is ready to support the central government to succeed the international agenda of the IMF-World Bank. In fact, Anas approved the use of VVIP waiting room building in the airport area became the terminal for international flights.
"AP II can also start to build an underground restaurant, under a stretch of green grass from the airport master plan that we have compiled. Addition of parking can also be done next to this restaurant later. Of course with this green airport concept, will add a special attraction for the delegates who attended, "said Anas.
Banyuwangi itself has also been designated as an area offered to become a tourist destination delegation of IMF-World Bank meetings from around the world. A number of tour packages will be offered banyuwangi, start enjoying Mount Ijen with the blue fire (blue fire) is phenomenal, coffee picking tours, to a variety of interesting art attractions.
Tourism Minister Arief Yahya, believes Banyuwangi will be a good host for all IMF-World Bank delegates present.
"There is a spirit of Indonesia Incorporated in it. The goal is only one, keeping the good name of Indonesia in IMF-World Bank annual meeting. With all the preparation and cooperation of the maximum, Banyuwangi will be ready to be a good host, "he explained.