TGB Governor Holds Halal Bihalal with TNB Community
By : Herry Barus And Aldo Bella Putra | Monday, June 18 2018 - 18:00 IWST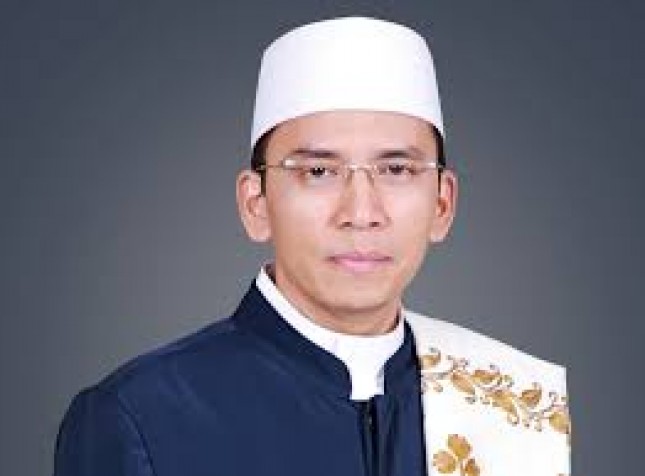 Gubernur NTB Tuan Guru Bajang Muhammad Zainul Majdi (Foto Dok Industry.co.id)
INDUSTRY.co.id - East Lombok - Thousands of people from all over the region, came and went at the residence of the Governor of West Nusa Tenggara Tuan Guru Bajang Muhammad Zainul Majdi in Gelang Village, Selong Sub-district, East Lombok.
Halalbihalal event of Idul Fitri 1 Syawal 1439H open to the public (Open house), became a space for the big family of Tuan Guru Bajang (TGB) greeting familiar to the Governor of NTB Muhammad Zainul Majdi with the community.
"On the 2nd day of Shawwal 1439 H, my family and I again can hold an 'open house' centered in the private residence of Adinda Teacher Bajang Muhammad Zainul Majdi, MA Pancor, East Lombok, NTB," said TGB siblings Hj Sitti Rohmi Written in a written statement received by the media crew in Mataram, Mingg (17/6/20180
Sitti Rohmi who is also a candidate for Vice Governor of NTB said, halalbihalal open like this become routine activity to get closer to society. Establish a good relationship as well as gather public expectations about NTB period after the next TGB.
"Alhamdulillah, every year the people who attend always look enthusiastic, they come from various villages and hamlets in NTB," he said.
TGB's door open wide welcomed the arrival of citizens who stay in touch with the orderly since at 08:00 pm. Even a number of scholars who came also could not be separated from the attention and greeting people to greet directly. Looked at the location of East Lombok Regent Candidate Syamsul Luthfi who is the older brother of TGB, also came with his partner Vice Najamuddin Mustafa.
Not only shake hands, this opportunity are also used by citizens who attended to take pictures with TGB also paslon Regent and Vice Regent of East Lombok (Fiddin) and NTB Deputy Governor Sitti Rohmi Djalilah and the scholars who attended.
Greeting Eid in this residence is the second held TGB after previously opened halalbihalal relationship at Islamic Center after performing Eid prayer at Hubbul Wathan Islamic Center.
In this occasion, the gathering was held with two stages namely TGB also held a limited meeting with the scholars who came.