Lebaran 2018, Traffic Usage of XL Axiata Natural Data Service Reaches 95%
By : Abraham Sihombing And Aldo Bella Putra | Wednesday, June 20 2018 - 18:00 IWST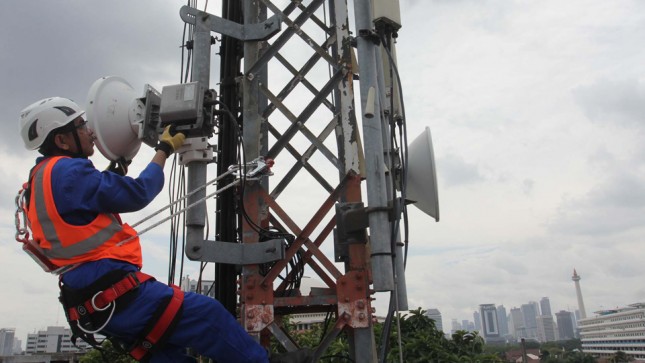 Pekerja memeriksa tower komunikasi milik XL Axiata. (Rizki Meirino/INDUSTRY.co.id)
INDUSTRY.co.id - Jakarta - PT XL Axiata Tbk (EXCL) traffic usage during Lebaran holiday June 8-17, 2018 increased by about 30% compared to normal days and experienced a significant 95% increase compared to last year's Lebaran.
In a written statement in Jakarta on Wednesday (20/06/2018), Yessie D Yosetya, Director of Technology EXCL, said the company's 4G traffic grew 45%. The traffic spike is because customers feel comfortable when using XL Axiata data service.
"Lebaran is always an important moment for us as a provider of data and telecommunications services. Tens of millions of our customers hope to use XL Axiata service optimally, "said Yessie.
Yessie revealed that the company's top priority is to ensure the convenience of customers, not only on the mudik route but also the departure places such as airports, ports, train stations, bus stations and rest-areas.
In addition, Yessie said, the long holiday period resulted in tourist attractions such as beaches, tourist parks, shopping centers, and others will need a more convenient data telecommunication network due to the high traffic of visitors who are also XL Axiata customers.
"If it can be fulfilled, then by itself the traffic will increase and this is good in business. We are grateful to provide maximum service during this Lebaran, without any significant obstacles, "said Yessie.
Yessie explained, the increase in data traffic in Lebaran this time is a continuation of the trend of data increase in recent years at the same moment. Communities and customers are increasingly comfortable using data services to support their activities during Lebaran holidays, including when they are in touch, traveling back and forth to their hometowns, and news through social media. In addition, the increase in traffic is also inseparable from the continued increase in data service users.
The highest data traffic over the 10-day period is dominated, among others, by streaming video traffic (video and music) reaching 47%. Along with the increasing quality and expansion of quality data networks such as 4G LTE, customers are increasingly comfortable accessing streaming services. Subsequent use of subsequent data is web browsing 16%, 13% Instant Messaging and social media 12%.
Meanwhile, for VoIP services rose 20%. Together with instant messaging, VoIP is now the choice of society in general as a substitute for SMS and voice / phone service. Both of these services became the choice of sending Ramadan and Lebaran. The use of the Messenger Facebook app has increased by 55%, GoogleDuo 20%, Hangout 16%, and Whatsapp 15%.
A very significant increase in traffic also occurs in access to road service such as Waze and Google Map, which are 55% and 135% respectively. The increasing number of people traveling home and returning home encouraged the use of digital land maps that are now increasingly accessible through smartphones.
In terms of location, the highest data traffic increase occurred in the Tasikmalaya area by 115%, Kuningan 110%. Next Sampang - Madura and Balikpapan respectively 95%, Garut 90%, Banyuwangi 77% and Sumenep - Madura 75%.
Meanwhile, if judging from the side of customer movement during Lebaran, the pattern of customer movement during Idul Fitri is synonymous with the movement of people who travel home and holiday.
Data as of June 15, 2018 or the first day of Idul Fitri show the number of customers in Jabodetabek who moved to other areas reached about 25%, the most compared to other regions. In contrast, Central Java and DI Yogyakarta became the main destination of customers from other regions, recorded the arrival of customers from other regions reached about 25%. Customers who come to West Java about 10%, to South Sumatra (Sumbagsel) and Kalimantan each about 8%.
From the network side, XL Axiata among others has added 8,500 new 3G / 4G BTS before Lebaran 2018. In addition, the transmission capacity by increasing the internet upstream capacity to 1000 Gbps or 3x higher than the capacity in Lebaran 2017.
In addition, there is also an increase in capacity on inter-island backbone transmission of 460G. Furthermore, the optimization and rebalancing of the network is done digitally at the Idul Fitri or hotspot Lebaran, such as among other places of departure or the arrival of travelers and tourist destinations, to reach a total of 344 points of location.
XL Axiata pays special attention to most major homecoming routes. Across Java, more than 96% of the major homecoming routes have been served by the 4G LTE network for highways, while for the Jakarta-Surabaya railway line, the 4G LTE network has reached over 90%. Meanwhile, outside of Java, more than 94% of the major homecoming routes in Sumatra and 66% in Kalimantan have been covered by the 4G LTE network.
This year, more than 97% of the area along the highway from Jakarta to Surabaya has been served with 4G LTE network. Meanwhile, for non-toll roads from Java north coast from Jakarta to Surabaya has been covered by 4G LTE service up to about 95%, and South Coast non-toll lane reaches about 90%. So also for the railway line Jakarta-Surabaya 90% underserved 4G LTE. (Abraham Sihombing)